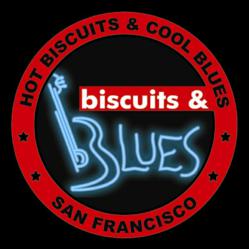 A top nightclub spot to see the blues or any music for that matter, a professional run nightclub that shines. - SF Examiner
San Francisco, CA (PRWEB) October 18, 2012
Biscuits and Blues is pleased to announce live performances for October, November, and December. The San Francisco bar, restaurant, and nightclub is a popular location for live blues in San Francisco. The fall concerts, which will take place at Biscuits and Blues and The Union Room, continue a long tradition of live bands that San Francisco establishments present throughout the year. The bar recently announced its upcoming live performance schedule:
David Maxwell; Wednesday, October 23
Rolando Morales; Thursday, October 25
Glenn Walters and Hoodoo Rhythm Devils; Friday, October 26
Rod Piazza and The Mighty Flyers; Saturday, October 27
Bob Malone; Thursday, November 1 (Union Room)
Greg Nagy; Tuesday and Wednesday, November 13-14
Joe Louis Walker; Thursday and Friday, November 15-16
Tad Robinson; Wednesday and Thursday, November 28-29 (rare performance)
Grammy nominee Elvin Bishop, Friday, December 7
Grammy Nominee John Lee Hooker Jr.; Monday, December 31 at 8pm and 11pm
Biscuits and Blues is a full restaurant and bar and one of the premier sources for live music performances San Francisco clubs and restaurants are known for. Biscuits and Blues is one of the top event venues San Francisco music fans enjoy on a regular basis. The restaurant and nightclub features award-winning southern cuisine and a wide selection of celebrated blues and rock artists. For further information about Biscuits and Blues, or to purchase tickets, call (415) 529-4624. Reservations are recommended, but not mandatory. Dinner is required on the weekends.
About the company:
Biscuits and Blues is a full restaurant, bar, and nightclub and one of the reasons why San Francisco is on the map for music lovers.
Located at 401 Mason St. at Geary, they offer an intimate setting for the best National and Regional Blues acts and are proud to feature an award winning Southern Cuisine menu. Their full restaurant and bar service offers first-class entertainment with memorable flair. For more information and current lineup, please visit their website at http://biscuitsandblues-sf.com.