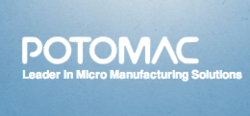 Parts can be created from a 3D drawing with pricing from as low as $25/part
Lanham, MD (PRWEB) October 16, 2012
Micromaching leader, Potomac Photonics, is pleased to announce the addition of a high-resolution 3D printer to its contract manufacturing services unit. The printer is quick and cost effective.
The 3D Systems Projet HD 3000 Plus is ideal for manufacturing small scale, high accuracy plastic parts. It has three build modes: high definition, extra-high definition, and ultra-high definition. It produces parts in an acrylic-based plastic that simulates real-world appearance and feel for complex modeling and functional testing applications.
In most cases, Potomac can provide 24-hour turnaround for real plastic parts that can be used for concept development, design verification, form-fit testing and product presentations. Parts can be created from a 3D drawing with pricing from as low as $25/part.
The 3D printing services are ideal for Medical Device, Biotech, Electronics, Alternative Energy, Automotive and Consumer Goods industries that can outsource their prototyping and production projects. Potomac Photonics is ISO 9001:2008 and ISO 13485:2003 certified.
"The 3D Systems Projet HD 3000 plus is a perfect addition to our broad range of micromanufacturing capabilities that includes laser machining, micro-CNC and small hole drilling services," said Mike Adelstein, President, Potomac Photonics.
About Potomac Photonics
For 30 years, Potomac Photonics has been a leader in microfabrication and small hole drilling. Potomac's contract services span prototyping to production, helping clients develop miniature products and bring them to market. Potomac is an authorized distributor for high-tech manufacturing technologies such as 3D printer and laser systems. Using cutting-edge manufacturing technology, Potomac has been recognized by both commercial and government agencies for innovation in areas such as medical device, electronics, aerospace, and automotive manufacturing. Potomac's high-tech facility, located in Lanham, MD, is ISO 9001:2008 and ISO 13485:2003 certified. Visit the website at http://www.potomac-laser.com