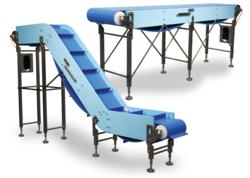 Muskegon, MI (PRWEB) October 17, 2012
Dynamic Conveyor staff will be available at Booth #4442 to answer questions about how the DynaClean Ultimate and DynaClean Premium conveyors can bring a quick return-on-investment to food processors and packagers.
Food processing and food packing environments that find it necessary to change frequently will benefit when purchasing DynaClean reconfigurable conveyors. Compared to other conveyors, the DynaClean systems allow changes, which permit the conveyor system length to grow or shrink without compromising the integrity of the conveyor. The design includes plastic HDPE side walls, which are cost effective to remove and replace for reconfiguration.
The versatility of the DynaClean conveyor system allows for a single, continuous conveyor to run straight, incline and/or decline. The DynaClean Premium line also includes the option for lateral turns.
DynaClean Ultimate reconfigurable conveyors are specifically designed for food processors. Food processors can rely on the fact that the DynaClean Ultimate line is designed to meet FDA, USDA, NSF and BISCC standards.
Both ThermoDrive solid belting and modular plastic link style belting is available, including a choice of drive flights. Belts are specified to meet the needs of wet, dry or sticky foods.
The DynaClean Ultimate line is designed for quick and easy cleaning and sanitation. Components can be removed in a matter of minutes giving complete exposure to the internal components of the system, which allows for efficient cleaning and sanitizing. DynaClean Ultimate conveyors go back together just as easily, getting them back into production and making money again.
DynaClean Premium reconfigurable conveyors are an economically priced system designed for food packagers with occasional washdown requirements. The system is built using plastic and stainless steel materials approved by FDA, USDA and NSF. A variety of modular plastic link style belting and drive flight are available.
The DynaClean Premium line includes options for straight, incline and/or decline and lateral turns while using one drive motor. Drive motors are externally mounted and washdown ready.
For more information and a closer look at DynaClean conveyors, please visit Booth #4442. After the show, call 1.800.640.6850 or visit http://www.DynamicConveyor.com for more information.