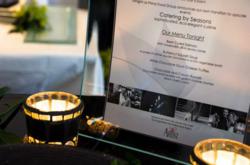 Catering by Seasons was the best and most professional caterer that has ever worked here; the level of service and attention to detail was amazing.
College Park, MD (PRWEB) October 16, 2012
La Prima Food Group is thrilled to announce the transformation of its special events division into Catering by Seasons: an upscale affiliate specializing in sophisticated, eco-elegant events.
Leveraging the best of both worlds, Catering by Seasons is a new brand founded on home-grown quality and sustainable business practices, backed by La Prima's 25 years of experience and decades of staff expertise. Catering by Seasons boasts an energetic, results-driven team of event specialists focused on providing excellence, sophistication, service and value in equal measure.
The company made its debut last week at a Hollywood Nights Showcase at the Carnegie Library. The menu and décor focused on classic black and white Hollywood, inspired by this year's Oscar-winning film "The Artist." See Catering by Season's blog for photos and more information about this creative event -- where a new star in DC-area catering was born.
On September 29th, Catering by Seasons had another debut with its first grown-to-order, farm-to-table wedding reception. Through its signature "Seeds to Celebrations" program in partnership with Open Book Farm of Myersville, MD, months of planning and preparation led to a truly special and memorable evening.
From the fields to the kitchen, and finally, to the table, Catering by Seasons produced an entirely grown-to order event with outstanding results. By keeping everything local and sustainable, the bride and groom and their 100+ guests celebrated in style with very low environmental impact. In fact, at the end of the event all food waste was composted, leaving less than one bag of trash!
The wedding took place at Engedi Estate, nestled in a valley just east of Maryland's Catoctin Mountains–just 20 miles from Open Book Farm, where most of the produce was grown.
"This event was extraordinary and it was our privilege to be part of it," said Engedi General Manager Debbie Newcomer. "Aside from the unique, beautiful and delicious grown to order menu, Catering by Seasons was the best and most professional caterer that has ever worked here; the level of service and attention to detail was amazing. They will be among our top recommended caterers from now on."
To see stunning photos of this signature event, visit Catering by Seasons' blog. To learn more about Catering by Seasons and the Seeds to Celebrations initiative, contact Karen Bate at pr(at)cateringbyseasons(dot)com.
Catering by Seasons offers a delicious, contemporary menu full of imagination and style for memorable special events such as weddings, corporate galas, religious celebrations and other important occasions. Its "Seeds to Celebrations" program provides fresh-from-the-garden, elegant and sustainable events that support local farms and protect the environment. La Prima Food Group kitchens operate in five locations throughout the Washington, Baltimore and Philadelphia metro regions, providing unsurpassed service that is fast and flexible. The company's "H Generation" division provides a nutritious school lunch program for area schools.