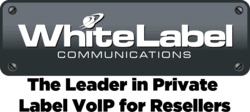 "We wanted to provide our resellers the tools they need to rapidly grow and expand their business and increase profits," said Chris Griffith, Chief Operating Officer
Philadelphia, PA (PRWEB) October 17, 2012
White Label Communications, a leading wholesale service provider of Private Label VoIP services, announced today the launch of White Label University. The new White Label University is an online educational resource center jam-packed with Voice over IP best practices built by our management team over the past decade. The University also includes a new state of the art Deal Tool our resellers need to promote and increase sales ultimately generating more revenue.
"We wanted to provide our resellers the tools they need to rapidly grow and expand their business and increase profits," said Chris Griffith, Chief Operating Officer with White Label Communications. "We created White Label University to share our working best practices with our growing Private Label VoIP Reseller community."
White Label University features a number of webinar offerings; online forums; knowledgebase and on-demand videos to help resellers maximize their sales and revenues.
"White Label University is an educational portal that our exclusive resellers can use to train their team," Griffith said. "Unlike our competition, we are focused on helping our resellers grow and White Label University is the next development in that process."
Using White Label University, resellers can train their sales representatives; train their sales managers; learn about accounting and billing; train on portal administration; become more proficient in provisioning and porting and even learn VoIP installation along with SIP Trunking and Hosted PBX services.
"Using our signature White Label University services, our resellers can quickly fast track their employees for success," said Griffith. "We have the tools to rapidly grow your success as a reseller. We understand that to achieve this goal we cannot view training and support as a onetime event but rather an ongoing evolution that keeps partners ahead of their competition. That's the White Label Communications advantage."
White Label Communications was founded by individuals with decades of experience in the Telecommunication industry. More specifically our careers have been focused on both voice and data from both the reseller and wholesaler (service provider) business models. White Label Communications provides Private Label Dial Tone to their partners through a global Hosted PBX and SIP Trunk solution that enables the next generation of service providers (NGSP) to expand their product base. White Label Communications has three offices to serve resellers – its headquarters in Philadelphia along with Pittsburgh and Seattle. Of course the company is able to help drive new revenue streams for telecommunications firms anywhere in the country.
For more information about White Label Communications, including details about how to become a reseller of their private label dial tone product, please call 215-987-4500 or check out more information on their website at http://www.whitelabelcomm.com.