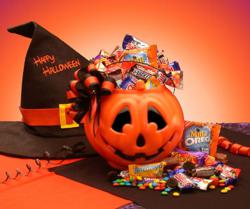 "Delivering Happiness in a Box Since 1998"
(PRWEB) October 17, 2012
1. Basket: Instead of using a traditional basket to hold your Halloween treats, be creative. Great items to use for a basket are: Halloween treats bags, totes shaped like monster heads, plastic jack-o-lanterns or even just a simple black box. Make sure it is sufficiently sized so that all the items will fit snugly. Party stores, craft shops and stores that sell decorative home goods are great places to find items to use for a basket.
2. Goodies: Halloween themed chocolate and candy is readily available this time of year and will give the basket just the right look. Halloween pretzels, Halloween marshmallow peeps, Reese's peanut butter filled Halloween pumpkins, skulls and bones sweet tarts, gummy bugs and skeletons, marshmallow eyeballs and eyeball lollipop's are just some of the Halloween goodies available to add to the basket. With this holiday being so based on candy, the stores are filled with a plethora of items to choose from.
3. Toys: If the basket is being made for a young person or just someone young at heart, a few Halloween themed toys will make a fun addition to the basket. Monster ball and cup game, Silly string, Halloween yo-yo's, glow in the dark bracelets and necklaces, glow in the dark vampire fangs or plush animals adorn in Halloween costumes and even Halloween spooky sounds cd's all make great activity items for the basket.
4. Filler: Add some type of filler to the bottom of the basket such as tissue paper, crinkle cut filler or foam.
5. Presentation: A nice touch is to have all the items face outwards, giving the basket a great appearance from the front or back. To fill in the gaps between the items and keep them from shifting down, add some fun sized candy. Another great way to keep items from shifting is to use adhesive glue dots. Just stick the items to each other but make sure items are stuck together in a decorative manner.
6. Use a decorative themed bow: Hand tie a bow made of either ribbon or fabric in Halloween designs or colors, such as orange or black.
7. Finally, attach a handwritten gift card
For more information about GiftBasketsPlus.com visit: http://www.giftbasketsplus.com/holiday-gift-baskets/halloween-gift-baskets
For over 10 years, GiftBasketsPlus.com has been offering the finest Halloween Gift Baskets. They feature a stunning array of high quality baskets for every occasion, theme and holiday. There are over one thousand different gift baskets to choose from so there is something for everyone, all backed by their 100 percent satisfaction guarantee.