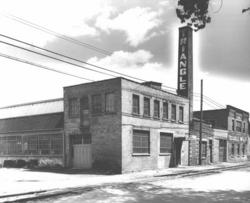 "As we look to the future, our customers will continue to remain our primary focus. We will continue to find innovative ways to create quality components at lower costs to keep our customers globally competitive."
(PRWEB) October 17, 2012
Triangle Manufacturing has been a cornerstone of Oshkosh, Wisconsin's manufacturing industry for the last 90 years. Since 1922,Triangle has serviced the agricultural and HVAC industries, and also clients within the automotive, cabinetry, display and wholesale industry. It's become unrecognizable from where it began to where it is now. Triangle is celebrating its 90th anniversary, and in this day and age, that's a point of pride. It's in the minority, especially since it's currently in its 4th generation of family ownership.
Triangle began mostly as a "job shop" that made specific parts for companies and worked strictly on a contract basis. The second generation of management could see that engineering, designing and producing a large volume of parts that could be sold to multiple companies was a more efficient and profitable business strategy. Triangle Manufacturing has carried on that initiative and now ships over one million lazy susan bearings every year along with motor mounts, bearings and mountings and custom creations.
From the beginning Triangle has strove to be a company of quality. A previous Triangle president says that Triangle has been consistent in emerging designs, honest prices without gouging, innovation through deviating from the standard, being open to customization and building and fostering that sense of trust between company and customer.
The first fully automated manufacturing system was used at Triangle in 1957. Now Triangle utilizes dozens of custom automated systems, including industrial robots. Triangle's product volume and customer base has grown exponentially, however, automation has allowed for Triangle's workforce to remain consistent. Its team of 45 employees (encompassing office, research and development, production and shipping departments), including eight engineers with over 157 years of experience within Triangle and five toolmakers with a combined 144 years of tool making knowledge work daily with some of the largest and most advanced companies in the world.
As Triangle ventures deeper into the world of automation and continues its expansion into Canada and Europe, it looks forward to the next 90 years: new products, new partners and new locations, with the same enduring values that it was founded on. Brent Walker, Triangle president, says that "In the next five years, we will have higher international visibility and expand our customization capabilities. We will also continue to automate the processes that make sense and continue to evaluate our efficiency as a company. As we look to the future, our customers will continue to remain our primary focus. We will continue to find innovative ways to create quality components at lower costs to keep our customers globally competitive."
About Triangle Manufacturing
For almost a century, Oshkosh, Wisconsin's Triangle Manufacturing Company has used a foundation of experience, paired with technical know-how and advanced automation to be the leader in fully customizable metal fabrication, product innovation and invention. We have introduced and redesigned fresh products that are progressive in their respective industries. Whether you need lazy susan bearings and HVAC components, pillow block mountings and blower bearing brackets or rod ends and direct-drive motor mounts, you can rely on Triangle Manufacturing's Creative Engineering. For more information, samples or quotes, visit us at http://www.TriangleOshkosh.com.