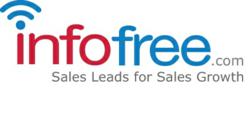 We are helping our customers become multi-channel marketers, taking advantage of email, direct mail, and telephone marketing.

Rakesh Gupta, President
San Mateo, CA (PRWEB) October 16, 2012
infofree.com, the leading provider of unlimited sales leads, mailing lists, and business credit profiles for the low, flat price of only $49.95 per month, is excited to announce its new sales tips resource center, which includes sales tips, industry trends, and marketing-related articles.
The sales tips center comes after last month's launch of the new infofree.com homepage, which customers are praising as being more user-friendly, allowing them to access unlimited sales leads and mailing lists in real-time. Once they have found their leads, customers can visit the infofree.com blog to find a wealth of information to help them make those sales.
All visitors to infofree.com can access the sales tips center, which features multiple daily articles focusing on industry trends, database marketing, and sales productivity tips. Topics include: Which types of email content yield the best open rates, how to benefit from direct mail marketing, and what consumers are the best to market to for your business. The blog also ties into the infofree.com social media platforms, which feature special product offers and more educational marketing resources.
"infofree.com not only provides the best-value leads in the industry, but now we are helping our customers become multi-channel marketers, taking advantage of email, direct mail, and telephone marketing best practices to grow their sales" says Rakesh Gupta, infofree.com President.
To try infofree, visit http://www.infofree.com or call 877-448-0101 for more information.
About infofree.com
For $49.95 per month, the service provides unlimited search and download of sales leads and mailing lists, as well as the unlimited view and print of business credit profiles and email lists of 12 million businesses, 200 million consumers and homeowners, and hundreds of other unique databases. Reach new homeowners, new movers, newlyweds, recently divorced consumers, and new businesses with real time downloading and unlimited search.
The infofree.com content is compatible with the following platforms: Oracle CRM, Salesforce CRM, Microsoft CRM, Nutshell CRM, Goldmine CRM, Sage ACT! CRM, Highrise CRM, Zoho CRM, NetSuite CRM, SAP CRM, Constant Contact, RightNow Technologies, Responsys, Vertical Response, and Dun & Bradstreet.