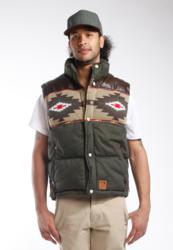 At the end of the day, it's about finding the right balance between aesthetics and functionality.
Moonachie, NJ (PRWEB) October 16, 2012
Autumn has traditionally been known as the season for fashion. The mild temperatures are perfect for accessories like scarves and hats while the panoply of colors serve as a beautiful backdrop for assorted kinds of outerwear. Of the different colors and patterns available, Navajo patterns have proven to be the most attractive and eye-catching.
Online streetwear marketplace Spurbe has launched its new line of Navajo Field Padded Vest specifically geared towards outdoor enthusiasts.
Mr. Eric Cha, founder of Spurbe, says that "Our own studies have shown that people's eyes are instinctively drawn towards Navajo patterns for the simple designs but also for the bright accent colors. Combine that with our padded vests, we end up with something that's both warm and highly fashionable."
The Navajo pattern sweater piece is sewn on the chest of the field vest. The vests themselves feature heavy Sherpa lining—a breathable material that keeps the wearer comfortably warm without running the risk of overheating.
Mr. Cha says that "At the end of the day, it's about finding the right balance between aesthetics and functionality. This is something that a lot of online marketplaces fail to remember, especially in the fashion field."
Spurbe's new line of Navajo Field Padded Vest are available in three different base colors, each with their own unique accent colors to help make the patterns stand out.
Mr. Cha then laid out each different color and proceeded to explain how they blend personality into their appearance. "If you're someone looking to really turn heads as you walk down the street, then the burgundy tech vest is perfect for you. We've made the bright colors irresistible to the human eye. But, if you're someone who's looking for a more subdued look, then you should look at the black-and-white vest. The different shades of gray appeal to people who are slightly more conservative but still want to look fashionable this fall. Of course, we haven't forgotten about those who are somewhere in between the two extremes. The olive green tech has two highly visible red dots on the chest area, and the overall woodland makes a perfect outfit with camo pants."
Spurbe's new lineup of Navajo field padded vest is only available in the Spurbe online store. For pricing information or to simply browse Spurbe's wide collection of men's streetwear, please visit Spurbe's website.