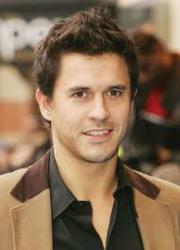 It took me five months to correct this and get my credit dating back
London, UK (PRWEB) October 19, 2012
TV star Jeremy Edwards has joined the growing number of people in the UK who have fallen victim to identity theft this year. Jeremy made the revelation that thieves managed to clone a copy of his credit card and run up a £6,000 bill when speaking to the Daily Mirror earlier this week. He was targeted a second time as well with thieves taking out a mobile phone contract in his name. The latest figures from CIFAS the UK fraud prevention service shows that fraud is up 10% on 2011 with more than 115,000 cases reported this year. Of these 66% were directly related to the problem of identity theft.
Jeremy first became aware that he had fallen victim to ID theft when he was sent a letter from an online store regarding his recent purchases. He discovered that thieves had been using a cloned copy of one of his cards to go on an online shopping spree for high priced electrical goods. "I hadn't a clue anything was wrong until I got a letter from an online store asking if I wanted to take out extended ¬warranties on the plasma TV and other hi-tech gadgets I'd 'bought'," said Edwards.
The second incident occurred when he applied for a new mortgage deal only to be turned down. He found that someone had managed to take out a mobile contract in his name by using his old address. He said "I couldn't believe it when I got turned down as I've always paid everything on time. It took me five months to correct this and get my credit dating back".
Fortunately the damage caused to Jeremy's life and finances was minimal. However many other people aren't so lucky. The damage caused by identity theft can run into the tens of thousands and take years to put right again. It is often the damage to credit rating and reputation that is the hardest to correct.
For anyone concerned about the threat of identity theft http://www.sydekick .com has the following tips. Keep personal documents secure in the home, ideally in a safe. When you are disposing of documents and statements make sure that they have first been shredded.
Check your credit report and bank and credit card statements regularly to look for signs of suspicious activity. Avoid posting personal information on social network sites and watch out for anyone asking for personal information whether it is online or by phone or post.
About Sydekick.com
http://www.sydekick.com/ is a leading source of information about the risks posed to people in the UK by identity thieves. It offers help and advice about identity theft insurance, staying safe online, credit score tracking and what to do in the event of an identity being stolen.