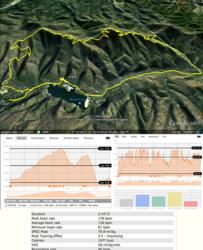 Garmin needs to make a conscious decision that they are going to create firmware updates to take this watch in more of a fitness direction, like Suunto has, otherwise it will be stuck in limbo as a handheld surrogate
Bozeman, MT (PRWEB) October 17, 2012
Since the arrival of the ultimate GPS watches, the Suunto Ambit and the Garmin fenix, it has become apparent that firmware updates and improvements will win a battle that is far from over, according to the Heart Rate Watch Company.
"Judging these two watches is not an apples-to-apples comparison at the moment because Suunto is nearly several firmware updates ahead", says Rusty Squire, President of the Heart Rate Watch Company. He adds, "What is obvious is the Suunto Ambit vision is to maximize fitness features and Garmin has not declared that vision yet".
Indeed, the Suunto 1.8 firmware update added more local satellite systems, including Alaska, a chronograph, on screen route maps and GPS time keeping. Suunto also offers Peak Training Effect, recovery times, and works with all of Suunto's run and bike pods, so at this time Garmin has some catching up to do.
Of course, Garmin fenix has access to map and elevation databases that is second to none.
"Garmin needs to make a conscious decision that they are going to create firmware updates to take this watch in more of a fitness direction, like Suunto has, otherwise it will be stuck in limbo as a handheld surrogate", says Squire. He adds, "Suunto is really pushing the threshold of what a GPS watch can be at the moment".
The Garmin fenix has got everything you could ask from a navigation perspective and as an altimeter-barometer-compass watch but when it comes to fitness, beyond basic heart rate, it hasn't decided to push in that direction yet. Garmin classified it under their "On The Trail" products, as opposed to fitness.
"There is a big market for people who love both fitness and outdoor navigation capabilities combined in a GPS watch", says Squire. He adds, "We think Garmin will catch on to that".