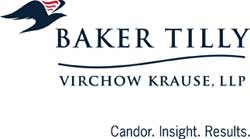 Chicago, IL (PRWEB) October 17, 2012
Baker Tilly Virchow Krause, LLP (Baker Tilly), a full-service accounting and advisory firm and a leading implementer of cloud technology solutions, is seeing a resurgence of companies enabling and refreshing eCommerce technology. "We are seeing a number of companies implementing new or expanding their current web-commerce capabilities," said Matt Haller, Principal of Baker Tilly's Cloud ERP practice. "Some of our clients are looking at eCommerce as a key component to achieve their business targets and the demands of the web-commerce market can be quite jarring for the unprepared, especially in older parts of their business."
Baker Tilly sees three major reasons why eCommerce solutions are gaining in importance.
•Businesses are shifting from focusing on cutting costs to growing the top line and eCommerce is a rapid, cost effective way to expand into new markets and channels.
•eCommerce buyers expect effortless transactions with no errors, delays or problems. Old, patchwork ERP, order entry, shipping, picking, etc. systems can't deliver the reliability the modern buyer demands.
•The limitations of technologies created before there was an Internet, and the emergence of cloud services and smart mobile devices, are changing the needs of businesses and are creating higher demands for integration when developing an eCommerce strategy.
In short, the technology that powered the Industrial Age isn't enough for the modern eCommerce world.
Superior International Industries, one of the largest and most innovative recreational products companies in the world, has chosen Baker Tilly to implement NetSuite SuiteCommerce platform. This new commerce-aware platform provides a central system to manage all transactions with consumers and other businesses regardless of touch point; website, in-store, smart phone, tablets, social media, etc. Superior plans to use NetSuite SuiteCommerce for order management, back-end operations and to develop a new web storefront, all integrated via the cloud.
Superior sought a technology solution adaptable to changing customer needs, and scalable to support growth. "Our first step is to implement core order management and back office functions the NetSuite platform, enabling us to move off our Sage MAS90 system. From there we will move towards automating more complex product configurations on the web, ultimately with visual ordering tools," said Ray Derbecker, President, Superior. "We expect our eCommerce approach to provide an unparalleled customer experience."
The Baker Tilly and NetSuite partnership launched with an emphasis on delivering the best cloud-based solutions to manufacturing and wholesale distribution clients, including a focus on eCommerce. With Baker Tilly's industry knowledge and NetSuite's industry leading cloud business software suites, joint customers can experience significant gains in efficiency and flexibility. "There is major value and efficiency to be gained by Superior in integrating their web presence, customer facing functions, and back-office operations into a single business system," said Haller. "NetSuite's multi-channel commerce platform helps us bring innovative ideas and value to a number of clients based on this platform. It combines the cost savings and simplicity of cloud applications, with an integrated capability for web, CRM, operations, and financials. This end-to-end commerce system is a unique offering in the cloud vendor space."
"We saw an opportunity to provide the market with an integrated multi-channel commerce solution. As eCommerce is essentially becoming a standard business function for companies today, it is important for the business system to provide integrated functionality, and not treat commerce touchpoints, whether web, in-store, tablet, or mobile as a set of stand-alone transactions," said Andy Lloyd, GM of Commerce Products at NetSuite. "The partnership with Baker Tilly further validates the trends that NetSuite sees shaping the business landscape, and Baker Tilly not only understands how to implement NetSuite solutions, including SuiteCommerce, but combines their knowledge with the management consulting acumen of their Growth Strategies service line to provide the most value out of NetSuite's cloud-based solutions."
About Baker Tilly
With more than 1,400 employees, Baker Tilly provides a wide range of accounting, tax, and advisory services. Ranked as one of the top 20 largest firms in the country*, Baker Tilly serves clients from offices in Chicago, Detroit, Minneapolis, New York, Washington DC, and throughout Wisconsin.
Baker Tilly is an independent member of Baker Tilly International, a worldwide network of independent accounting and business advisory firms in 125 countries, with more than 24,000 professionals. The combined worldwide revenue of independent member firms exceeds $3 billion.
For more information, please visit http://www.bakertilly.com.
*According to Accounting Today's 2012 list of "Top 100 Firms."
SPECIAL INSTRUCTIONS FOR ALL MINNESOTA MEDIA OUTLETS ONLY:
All company references to Baker Tilly in this press release must be listed as Baker Tilly Virchow Krause, LLP. No shortened version of the company name is permitted. All references to Baker Tilly International do not require modification.
Media Contact:
James Ang
Marketing Manager
Baker Tilly
Email: james.ang (at) bakertilly (dot) com | Phone: (414) 777-5374
About NetSuite SuiteCommerce
NetSuite SuiteCommerce is at the heart of NetSuite Commerce as a Service (CaaS), which enables businesses to manage their interactions with consumers via a cloud platform and delivers any desired customer experience, on multiple devices, directly on the core NetSuite ERP/CRM business management application. For more information about NetSuite SuiteCommerce, please visit http://www.NetSuite.com/suitecommerce.
About Superior International Industries
Superior designs and manufacturers branded playground equipment and components, site furniture, shelters, shade solutions, anchoring products and integrated solutions for a variety of end markets including parks, schools, childcare facilities, amusement parks, hospitality, franchise operations, sports venues and the military.