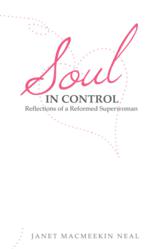 Think of this book as your karmic wake-up call.
New York City, NY (PRWEB) October 18, 2012
We all want to be somebody who "has it all". But what does that phrase really mean? For Janet M. Neal, a self-proclaimed one time "superwoman", the definition of having it all changed dramatically when she realized her supposedly ideal life was something that made her exhausted, unhappy, and unsure of who she really was.
Neal's experiences, and the feelings of so many women in today's society, are captured in her new book, Soul in Control: Reflections of a Reformed Superwoman. This book is the inspirational and entertaining story of how one woman ignored the pressures of what society wanted for her, learned how to listen to the wisdom her soul, and embraced the lifestyle she genuinely wanted.
Drawing on her extensive success and experience as a coach, writer, speaker, entrepreneur, and single mother, Neal has written this book for the real concerns of the modern woman – family, a career, independence, and a deeper, richer, more fulfilling life where the soul is truly in control.
For more information, visit http://www.janetmneal.com.
Soul in Control: Reflections of a Reformed Superwoman
By Janet Neal
ISBN: 978-1-4525-5155-5
Softcover, retail price: $15.99
E-book price: $3.99
About the author
Janet has been writing her newsletter and blog, A Balanced Perspective, since 2002, when she left her corporate life behind and entered the world of entrepreneurship. She has been a columnist in regional publications and has been quoted in numerous mainstream media; she has also read her work on Writing from the Heart on Sirius Radio.
Janet is a single mother, entrepreneur, writer, coach and speaker. She lives in New Jersey with her children and two dogs. Visit Janet online at http://www.janetmneal.com.
# # #