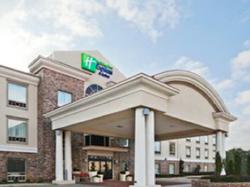 Subhash Naik facilitated the sale of a high cash flowing Holiday Inn Express in Austin, Texas.
Austin, Texas (PRWEB) October 16, 2012
(Austin, Texas) The Hotel Inventory (THI) congratulates Subhash Naik of Swoboda Hospitality Services as he announced that he has facilitated the sale of the high cash flowing Holiday Inn Express in Austin, Texas.
This hotel for sale presented a tremendous opportunity for the Buyer, a California developer, to enter the highly sought after Austin market. A creative lease with the option to purchase deal was reached for $7.4 million. The successful transaction will allow the developer to expand and grow his portfolio during this difficult real estate financing environment.
The Holiday Inn Express is located in one of the strongest economic markets in the country. Austin is the new home of an F1 race track called the Circuit of the Americas. The city is also home to SXSW, or South by Southwest, a film, music and interactive festival that attracts high tech executives from companies like Facebook, Twitter and Foursquare. These two demand generators alone bring a tremendous amount of business to the Austin market.
Subhash Naik, an avid user of The Hotel Inventory, has found great success in marketing his hotels with THI, where he was able to connect with buyers for a handful of the hotels that he posted. He shares this success with other commercial brokers as THI generated multiple leads for several of the Texas hotels that have been posted on the site. As The Hotel Inventory grows to be a common name in the commercial real estate world, they expect to find more success in helping commercial real estate brokers connect with hospitality investors in Texas and across the United States.
The Hotel Inventory is a real estate marketing firm specializing exclusively in the hospitality industry. Founded in 2009 by Robert Prince, The Hotel Inventory has quickly become an irreplaceable, full-service, marketing tool for hotel professionals across the nation. With nearly 600 properties posted for sale and strategic lead generation sevices, The Hotel Inventory has assisted in tens of millions of dollars in hospitality transactions to date.