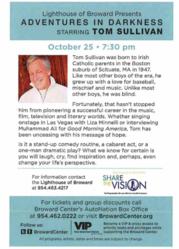 "Not only is his show a uniquely entertaining theatrical masterpiece, he is living proof that one need not be limited by visual impairment," states Elly du Pre, DPA, Lighthouse of Broward Executive Director
Fort Lauderdale, Florida (PRWEB) October 18, 2012
Is it a stand-up comedy routine, a cabaret act, or a one-man dramatic play? Decide for yourself on Thursday, October 25, 2012 at 7:30 p.m. as the Lighthouse of Broward presents Adventures in Darkness starring the nationally acclaimed Tom Sullivan for one night only, on stage at the Broward Center for the Performing Arts.
Born blind, Tom Sullivan is a national sensation that has been captivating audiences for decades. You will laugh, cry, find inspiration and, perhaps even change your life's perspective after witnessing the Adventures in Darkness benefiting the Lighthouse of Broward.
"We are so honored to be able to bring Tom Sullivan to Ft. Lauderdale," states Elly du Pre, DPA, Executive Director of Lighthouse of Broward. "Not only is his show a uniquely entertaining theatrical masterpiece, he is living proof that one need not be limited by visual impairment."
With an estimated 125,000 severely visually impaired individuals residing in Broward County, the Lighthouse of Broward is the only local source of comprehensive rehabilitation services for children, adults and seniors in need of maximum independence. Funds raised from Tom Sullivan's performance of Adventures in Darkness, will help sustain the various services provided, at no cost, to the thousands of visually impaired clients served by the Lighthouse each year.
Event sponsors to date include Allergan Pharmaceuticals, W. Huizenga Foundation, Leiser Foundation, Bank United, AutoNation, American National Bank, The Wasie Foundation, Solstice Benefit, Wood Business Systems, Miller Construction, BCOA, Ft. Lauderdale Eye Institute, McKinley Foundation Health Care Consortium, Tripp Scott, Coldwell Banker, Waveguide Communications, Inc., Northern Trust, Nova Southeastern University, Iberia Bank, S. Florida Venezuelan Lions Club and Willow Wood & Horizon Bay Tamarac.
In coordination with this event, a number of fun and unique items are being auctioned off online. You can place your bids on items such as, Miami Heat Tickets, Vacation Packages, Cruises and Sports Memorabilia until October 29, 2012 at 10 p.m. eastern time. Visit http://www.biddingforgood.com/auction/AuctionHome.action?vhost=lhob
To purchase tickets to the nationally acclaimed Adventures in Darkness starring Tom Sullivan on Thursday, October 25, 2012 at 7:30 p.m. at the Broward Center for the Performing Arts visit http://www.lhob.org or call 954-463-4217 ext 112 or visit http://www.browardcenter.org.
ABOUT LIGHTHOUSE OF BROWARD
Established in 1973, the Lighthouse of Broward is a 501(c)3 organization that is the sole provider of rehabilitation services, training and support programs for Broward County's 125,000 visually impaired population. Assisting individuals of all ages from newborns to seniors, services are tailored to meet individual needs based on assessments conducted by certified professionals to better ensure clients achieve maximum independence. Accredited by the National Accreditation Council for Blind and Low Vision Services, the Lighthouse of Broward earned the four-star rating from Charity Navigator. A United Way partner agency, the Lighthouse is a member of the Florida Association of Agencies Serving the Blind and is sponsored by the State of Florida Department of Education/Division of Blind Services. If you know someone who is blind or visually impaired or would like to make a donation, call 954-463-4217 or donate online at http://www.LHOB.org.