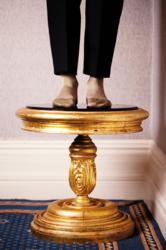 We have confidence that we are getting a solution that feasibly could be the last ERP system we would ever need to buy and implement.
(PRWEB UK) 19 October 2012
Luxury sock manufacturer Pantherella is investing in a new fully integrated enterprise resource planning (ERP) system from In2grate Business Solutions. This is a landmark deal for In2grate Business Solutions beating strong competition from what the UK market perceives to be the fashion industry's de facto system supplier in the UK. The investment in new technology will support Pantherella's growth and future development plans, while enabling new efficiencies.
The system comprises Microsoft® Dynamics NAV and TRIMIT Fashion - a fully integrated vertical add-on designed specifically to meet the unique demands of clothing manufacturers. In2grate Business Solutions is also providing special functionality for Yarn Control and Machine Groups to reduce waste, give tighter control of raw material stocks, and optimise machine use and production planning.
"In2grate Business Solutions invested a lot of time getting to know our business and we recognised that Dynamics NAV with TRIMIT Fashion would be the best fit for our requirements. With Microsoft investing heavily in its software, we have confidence that we are getting a solution that feasibly could be the last ERP system we would ever need to buy and implement. Also, TRIMIT has a very close relationship with Microsoft, being a member of the elite Technology Adoption Program and you don't get to join it unless Microsoft values what you do," says Richard Gray, Group IT Manager.
TRIMIT Fashion sits within Microsoft's powerful enterprise resource planning (ERP) system giving it advanced functionality for fashion manufacturing. It does this by streamlining the creation and management of the bill of material (BOM) when producing customisable products, such as socks that come in different sizes, colours, styles and using different materials. It ensures accuracy of detail and therefore prevents production errors and wastage.
"We are expecting TRIMIT's product configuration to make a huge difference to how we operate. It fits our approach perfectly whereas other product configurators we looked at required us to change the way we do things. Having invested a lot of time in developing our production methodology, we wanted to keep it and not have software reshaping the way we work," says Richard Gray.
Pantherella is part of the HJ Sock Group, a family owned hosiery specialist that was set up in 1882. Pantherella manufactures and supplies luxury socks to Harrods and Selfridges, among other high-class fashion retailers.
For more information contact
Kathryn Howarth, Group Marketing Manager, In2grate Business Solutions Ltd (part of the Anisa Group): kathryn.howarth@anisagroup.com, tel: +44 (0)151 448 2792
About In2grate Business Solutions
In2grate Business Solutions helps companies to improve operational efficiency. A Microsoft Gold Partner and EMEA Affiliate for JOBSCOPE, In2grate has more than 40 years' experience of working with manufacturing, wholesale and distribution companies to successfully implement systems that enable them to grow their business and remain competitive. With a track record of global implementation and support for more than 500 successful projects in 60 countries, In2grate Business Solutions has a proven ability to deliver projects on time and within budget.