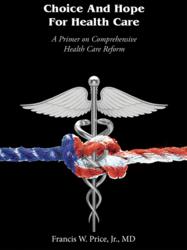 "Health care should be as readily available and affordable as the food supply we have in this country."
Dr. Francis Price.
Indianapolis, IN (PRWEB) October 19, 2012
As a member of the American Academy of Ophthalmology and one of America's most innovative and pioneering eye surgeons, Francis Price Jr., MD has spent his ophthalmic career restoring the vision of thousands of men and women across the country and around the world. Today, this politically passionate ophthalmologist has shifted his focus by publishing, "Choice & Hope For Health Care," an eye-opening primer on health care reform aimed at restoring the health care system in the U.S.
"I wrote and published 'Choice and Hope for Health Care' as an easy to understand explanation of the current crisis and to provide a financially viable solution," said Dr. Price. This book is designed for health care consumers and for those in industry and government who want to understand why our health care costs are out of control, how our current path is likely to further increase costs while limiting our healthcare choices and how we can have an alternative that will both be cost effective and still allow access to new advances in medical care.
"Health care should be as readily available and affordable as the food supply we have in this country," explained Dr. Price, who illustrates a comparison of the U.S. healthcare system to our food industry. The book is available as a free download from the Apple i-Tunes Store at iTunes.com, Choice and Hope for Health Care. A free download of "Choice and Hope for Health Care"is also available at http://www.PAACnow.org.
About Francis Price Jr., MD
Dr. Price is an internationally recognized ophthalmic surgeon. He has helped pioneer new techniques which have changed eye surgery around the world including training over 500 physicians from 30 countries that have traveled to his practice in Indianapolis.
His unique background includes not only being a practicing physician, but managing both a private clinical practice and an ambulatory surgery center. He has served on a committee for 30 years which oversees a medical association health plan with about 5,000 insured, and actively participates in developing new technology both with pharmaceutical companies and surgical device companies.
He is a Phi Beta Kappa graduate of the University of Notre Dame and is a 1977 graduate of Indiana University Medical School, where he also completed his residency in ophthalmology. He has served as a principal investigator or medical advisor for studies on ophthalmic medications and devices, as well as surgical procedures including cornea transplants and Excimer lasers. He is also a teacher, lecturer and inventor holding U.S. patents for special devices used in ophthalmic surgery.
Dr. Price is passionate about finding better ways to improve vision, and finding solutions to the current dilemma in health care.