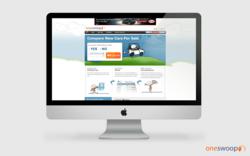 Whether a private or commercial investor looking for an outright purchase, a lease or business contract, Oneswoop.com makes getting a new car incredibly simple with just a few easy steps.
Liverpool, UK (PRWEB UK) 17 October 2012
The new Oneswoop.com website has recently been overhauled to provide a tailor-made and more streamlined user experience. It now allows people to find new cars for sale from Oneswoop.com for a new model in just a few simple steps.
The front page instantly presents visitors with an incredibly simple way to find an affordable car for their needs, whether they know precisely which car they want or are just searching.
For those that know which car they want to compare new car prices at Oneswoop.com, they will be taken straight to a page where they can get instant quotes for the model, whether they're considering leasing, a finance option or outright purchase.
Site visitors can view an incredible depth of information about the model they've chosen, including standard options, specifications and an overall summary about the car they wish to purchase. Prices are always clearly visible on the model page, whether for Business Contract Hire, Personal Contract Hire, Personal Contract Purchase or other.
Oneswoop.com's expert team will always personally contact the user for all enquiries made. Getting a quote has never been easier though thanks to Oneswoop.com's easy-to-use enquiry form. All visitors have to do is enter their name, address, email and telephone number to get a personalised quote from a trusted advisor.
The same is true for visitors that aren't sure which type of car they'd like. Oneswoop.com's search services allow users to enter the size of car they'd like alongside a number of available bodystyles. Buyers can then narrow their search down through model price, the estimated running costs of the model or from name of the manufacturer (in alphabetical order).
They can then enquire as easily as a user that knows what car they'd like through Oneswoop.com's simple enquiry form. Oneswoop.com's new, simple site design makes getting quotes and car comparison is easier than ever before.
Oneswoop.com can provide some of the lowest new car prices currently available online. Oneswoop.com's incredible relationships with some of the industry's best-known manufacturers and dealerships allows them access to some of the most affordable deals for new models on the market, passing the savings on to the user.
The new Oneswoop.com website also allows easier access to unique content provided by the site's automotive team. Oneswoop.com is regularly updated with industry news relating to the car industry, buyers' guides and entry-level information for people that want to buy a car and much more besides.
The Auto Network's Head of Digital Marketing, Richard Wood, says of the relaunch: "We're delighted with Oneswoop.com's new design, and the ease of access it provides to users looking for new car quotes to suit their lifestyle and budget.
"Getting the car you've always wanted for an affordable fee has never been easier with the new Oneswoop.com. Whether a private or commercial investor looking for an outright purchase, a lease or business contract, Oneswoop.com makes getting a new car incredibly simple with just a few easy steps. Our automotive experts do all the work, finding the right dealer in your area with the best prices for little fuss."
ENDS
###
About Oneswoop.com:
Oneswoop.com is able to provide people with the lowest new car prices from dealerships in their area with incredible ease. New car buyers can get a free quote in a few short steps for cars built by the world's best manufacturers. Oneswoop.com can provide an outright purchase, finance and leasing options to personal and professional clients. Dealerships are also able to deliver new cars to homes upon purchase.
About The Auto Network:
Formed in 2002, The Auto Network is the UK's leading automotive marketing agency, specialising on lead generation and digital marketing. In the decade since its inception, The Auto Network has delivered thousands of sales, test drives and brochure request leads each month to manufacturers, dealers and the leasing industry. Clients include Vauxhall, Honda, Perrys, Seat and more.