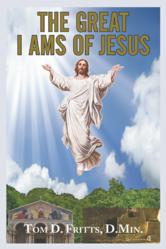 The only way to find out who we are as believers is to discover who Jesus was as Savior.
HOUSTON, Texas (PRWEB) October 18, 2012
With the 2012 presidential election drawing near, Jesus and the Bible seem to be in the news everyday. Despite the daily mentions in the political arena, however, how much do we really know about the man so many call "Savior"? And how many of us truly understand his word?
The Great I Ams of Jesus, the newest release from Dr. Tom D. Fritts, aims to demystify the Bible's teachings and create a deeper understanding of Christ in those that seek his word.
Throughout the Bible, Jesus utilizes a series of statements known as the "Great I Ams" to illustrate his nature to his followers.
Now, Christ's words are uniquely presented in a way that will allow any reader to discover the truth contained in those Bible passages that is so often lost in today's world – from pastors prepping for a sermon, to scholars wanting a more direct and original translation, to devoted followers searching for a more substantial and accurate rendition of Christ's teachings.
Drawing on a lifetime of experience as a pastor and biblical scholar, Dr. Fritts' interpretation of the "Great I Ams" contains detailed biblical explanations and includes references in Hebrew, Greek and English.
"My great hope is that readers will discover the words of the Bible in a new and energizing way," says Dr. Fritts. "The Great I Ams of Jesus is really a tool to further one's own understanding of Christ."
For more information, visit http://drtomdfritts.com.
The Great I Ams of Jesus
By Dr. Tom D. Fritts
ISBN: 978-1-4627-0685-3
Softcover, retail price: $20.99
Hardcover, retail price: $37.95
E-book price: $3.99
About the author
Tom D. Fritts, D. Min. holds a B.A. from Belmont University in Nashville, Tennessee, a B.D. and M.Div. from Southwestern Baptist Theological Seminary in Fort Worth, Texas, and a doctorate of ministry from Luther Rice in Jacksonville, Florida. Dr. Fritts has undertaken advanced biblical studies in many countries, and has written three additional books: A New Testament Diaconate, From the Garden of Thorns to the Table of Grace, and an interpretation of Psalm 119. He has served as pastor in three states and currently resides in Texas.
# # #