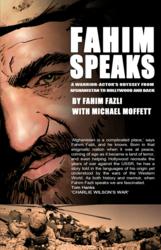 When Fahim Fazli speaks, we are fascinated.
Tom Hanks, Charlie Wilson's War
Los Angeles, CA (PRWEB) October 18, 2012
"Fahim Speaks: A Warrior-Actor's Odyssey from Afghanistan to Hollywood and Back" is the riveting life-story of Fahim Fazli, who narrowly escaped his war-torn homeland, made his way to Hollywood to pursue his dream of becoming an actor, and then returned to fight for a free Afghanistan as an interpreter with the American Marines.
In an open, passionate, often brutal first-person narrative, the authors of "Fahim Speaks" recount Fazli's story from boyhood in Soviet-occupied Kabul, through a harrowing cross-border escape into Pakistan, and on to America where his divided family was eventually reunited. Settled finally in a nation where his destiny was his own to decide, Fazli pursued his dream of becoming an actor and labored in background roles – cast mostly as a terrorist - for nearly 15 years until he finally earned membership in the Screen Actors Guild.
Hoping to repay some of the kindness and opportunity he'd been given in America, Fazli volunteered to return to Afghanistan as a linguist-interpreter. He could have taken an easier route, but he volunteered for assignment with the U.S. Marines in volatile Helmand Province where he labored to become a reliable cross-cultural link between the Americans and the local Afghan tribes. His efforts brought praise and official commendation from the Marines and a special place on the hit-list of the Taliban which put a high price on his head.
The book is co-authored by Michael Moffett, a retired Marine officer who met Fazli in Afghanistan in 2010. Moffett was taken by Fazli's epic story as was Oscar winning actor Tom Hanks, who met Fazli working as a cultural adviser on "Charlie Wilson's War." "When Fahim Fazli speaks," Hanks declared, "we are fascinated."
"This book is an exciting and invigorating story that brings not only inspiration to a war-weary American public," said Captain Dale Dye, a retired Marine Officer and CEO of Warriors Publishing Group, "but also provides valuable insight to what we see every evening on the TV news. If you want to better understand concepts like assimilation, culture-clash, patriotism, and perseverance, you need to read Fahim Speaks."
Warriors Publishing Group is dedicating to connecting readers to the best in military fiction and nonfiction. WPG is a part of Warriors, Inc., the entertainment business' premiere military advisors, with credits including Band of Brothers, Saving Private Ryan, and many more. Our books provide entertainment and insight into the missions, motivations, and mentality of the military mind.