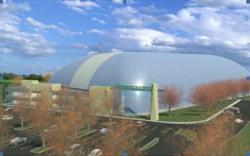 Greenburgh, NY (PRWEB) October 16, 2012
Town of Greenburgh residents will have the opportunity to make their voices heard regarding a proposed new sports facility on November 6, 2012, by voting yea or nay on a referendum that is on this year's ballot. The referendum asks whether to approve a resolution allowing the Greenburgh Town Board to enter into a lease that allows construction of a private, multi-purpose, year-round sports facility at 715 Dobbs Ferry Road, the site of the former Frank's Nursery.
The Game On 365 Town referendum on November 6 falls three days before Elm Street Sports are to submit their arguments on a lawsuit that seeks to effectively block, or at least delay the development of the proposed sports related facilities in the area. "Game On 365 expected that Elm Street Sports Group would file a lawsuit. Given the nature of local competitive operations, it did not come as a surprise to us, though we believe that Elm Street's efforts are destined to fail." says Martin Hewitt, Project Manager for Game On 365. Mr. Hewitt continued, "We will continue to encourage the residents of Greenburgh to vote on November 6 in favor of the Game On 365 proposal to build The Westchester Field House which will generate over $5 million in revenue for the town over 15 years, relieving the heavy tax burden on residents."
The referendum, Town Proposition Number 1, was unanimously approved by the Greenburgh Town Board on August 13, 2012. Town Proposition Number 1 gives permission to Game On 365 to construct a sports bubble for use by children, adults, and seniors. Financially, the lease would generate a minimum of $5 million to the Town in property taxes and revenue over 15 years. Game On 365 also will provide a one-time payment of up to $125 thousand for an environmental study and cleanup of the site.
"We encourage Town of Greenburgh residents to vote yes for this referendum that will increase sports and recreational resources in the Town," says Paul Feiner, Supervisor of The Town of Greenburgh. "A yes vote will Transform a town tax burden into a revenue generator."
Additional information on the proposed facility and the referendum is available at http://www.thewestchesterfieldhouse.com.
Game On 365 LLC was founded by two Tarrytown residents. Its partners have more than 15 years of experience operating very similar and successful recreational facilities in Bergen County, New Jersey.
About the Westchester Field House
The proposed Westchester Field House will offer an unparalleled opportunity for a state-of-the-art, year-round recreational facility in the heart of the Town of Greenburgh, New York. At the site of an abandoned property, The Westchester Field House would provide; greater recreational opportunities for all ages, expanded tax collection, more jobs and enrichment that grooms our youth to actively participate in sports.
About Game On 365
Game On 365 was founded by local residents and is based in Tarrytown, New York. Game on 365 and its partners have for the past two years developed the proposal to build The Westchester Field House and Game On 365 partners are successfully operating two indoor sports facilities in Bergen County, New Jersey. The Westchester Field House will be similar in size and concept to Superdome Sports, its sister facility in Waldwick, New Jersey. Game On 365 can be reached at (914) 573-4646 and more information can be found by visiting http://www.TheWestchesterFieldHouse.com. A video showcasing the sister facility can be viewed by visiting http://youtu.be/qsceqLUdTqQ.
Press Contact
James Melnichok
Director, Client Services
Co-Communications, Inc.
(212) 481-4540
james(at)cocommunications(dot)com