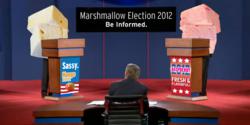 This is the most important election of the year
New York, NY (PRWEB) October 23, 2012
New York dessert artisans Three Tarts announces the Confection Election 2012 campaign to determine which flavor fans want to vote for. The campaign will be decided by voting on Three Tarts Facebook page the day after the final Presidential Debate and running through Sunday October 28, 2012.
"This is the most important election of the year," says Three Tarts owner Marla D'Urso. "It will decide the direction of the country...on their Three Tarts marshmallow preference."
The Marshmallow Election 2012 is asking fans to vote for their favorite marshmallow candidate based on their respective platforms. Mango is promising to be "Sassy" while Raspberry offers "Fresh & Flavorful" as it's promise.
Three Tarts notes the stance of Raspberry as: "I believe that what makes us great is that we are made from only fresh, all-natural ingredients. Fresh & Flavorful. That is what it means to me to be a Three Tarts marshmallow."
While the Mango marshmallow had as its platform: "Hand-crafted, fresh and flavorful brings out the squishiness in all of us but we are bold! I'm Mango, I'm Sassy and I AM a Three Tarts Marshmallow."
The candidates can be seen discussing dessert policy and domestic treats in their one and only debate and Three Tarts is asking fans to vote for their marshmallow candidate on Facebook.
Three Tarts Bakery & Boutique flagship store is located in the Chelsea section of New York City at 164 Ninth Avenue and can be reached at (212) 462-4392. Their second location, Three Tarts at The Plaza Food Hall, is located at New York's The Plaza Hotel and can be reached at (646) 755-3232. Three Tarts is also on Facebook, and @ThreeTartsNYC on Twitter.