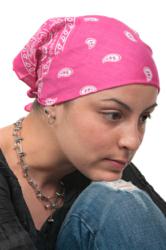 The thought that there could be "more to come" is scarier than what you're going through now.
Orange, CA (PRWEB) October 17, 2012
HealthCompare, a nationally recognized health insurance comparison site, says a cancer patients biggest fear is coming out of remission after long hard battles, but there's new hope for those survivors, according to Dr. Lauda Bilek.
Cancer patients who know they could develop the disease again have trouble finding health insurance coverage they can afford. It's an ugly disease with ugly financial repercussions. And it leaves patients with more bills than they can pay for, but the "thought that there could be "more to come" is as scary as what you're going through now", says the father of one survivor.
Patients treated for cancer are often the victims of policies that label them "Risks" to health insurance companies; insuring they'll have a difficult time trying to find an affordable policy later, should they find themselves in need of one. Just like one NY Times writer will experience, herself.
As a 24 year old with myeloid leukemia, right now she is covered with her father's insurance, but in two years, this cancer patient will have to find her own coverage with the corresponding label following her.
And unfortunately, many families like this have to struggle to make ends meet when a member is struck by one of these life-changing diseases. On top of having to watch their loved one fall sick, not only from the cancer, but from medications and treatments, they have to struggle with the financial effects afterward and the fear that the cancer could come back.
Since many cancers come back even after treatment and "cure", second attacks pile more bills disguised as health insurance premiums and out-of-pocket costs on top of the struggling and pain the patient and his family has to suffer.
Yet, today, there's some good news on the horizon.
Data released says that a significant portion of T-cells, immune cells that help keep the body healthy, converted from a senescent form, which isn't as effective at combating disease, to a naïve form, ready to fight cancer and infections. Giving cancer survivors a fighting chance to stay that way.
Essentially, exercise can remodel the immune system of cancer patients, giving them a chance to stay healthy and scale back their medical costs.
Bilek says, "There's a litany of positive benefits from exercise. If exercise indeed strengthens the immune system and potentially improves cancer surveillance, it's one more thing we should educate patients about as a reason they should schedule regular activity throughout their day and make it a priority in their lives."
In the meantime, as they battle this disease with a daily exercise regimen, health insurance patients can search for affordable health insurance at HealthCompare.com, where millions have walked away with free health insurance quotes that have given them the freedom to choose better policies.
About
About Health Compare: HealthCompare was launched in 2009 to work with brokers and carriers to help individuals and families easily research, compare, buy, and enroll in the right health insurance plan at the right price. Based in Orange, Calif., it delivers accurate, customized, health insurance quotes for the country's diverse population.
Through a unique partnership with its sister company, CONEXIS, HealthCompare has the ability to quickly reach thousands of COBRA-qualifying consumers and provide them with COBRA alternatives at the moment they become eligible for COBRA benefits. This provides these consumers with an opportunity to enroll in individual or family plans and potentially save hundreds to thousands of dollars on COBRA premiums and, at the same time, rewards referring brokers with referral fee income for the life of each policy.
Get your free health insurance quote today. Visit http://healthcompare.com/ or call 888.748.5152.