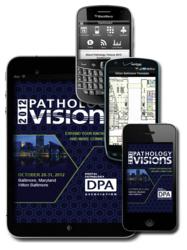 Indianapolis, IN (PRWEB) October 23, 2012
The Digital Pathology Association's (DPA) annual conference Pathology Visions, being held October 28-31, 2012, is quickly approaching. To ensure that attendees stay as connected as possible with conference events the DPA has created a Pathology Visions mobile app.
This will be the first year the DPA is offering a mobile app to compliment their print programs. Some of the benefits to downloading the mobile app include receiving daily alerts for the days' events, creating a personal schedule of all the presentations, access to all speaker and exhibitor profiles, ability to view conference and hotel maps instantly, and a full directory of Baltimore attractions, restaurants and shopping.
The Pathology Visions mobile app is compatible with all mobile devices and can be downloaded from the Apple App Store or Google Play.
Registration for Pathology Visions is still open. Please click here to register now for the conference and visit our website for more information regarding Pathology Visions.
About the Digital Pathology Association
The Digital Pathology Association, located in Indianapolis, IN, was founded in 2009. Its mission is to facilitate education and awareness of digital pathology applications in healthcare and life sciences. Members are encouraged to share best practices and promote the use of technology among colleagues in order to demonstrate efficiencies, awareness, and its ultimate benefits to patient care. To learn more about the DPA and Pathology Visions, please visit our website.