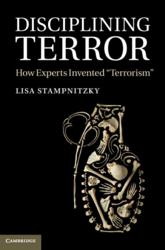 (PRWEB) October 17, 2012
The department of philosophy at Elms College will present a lecture titled "The Invention of Terrorism," led by Harvard University Lecturer of Social Studies Lisa Stampnitzky, 3:30-5 p.m., Friday, October 26, 2012. Stampnitzky will discuss her upcoming book, "Disciplining Terror: How Experts Invented 'Terrorism'" (Cambridge University Press), which explains how the phrase "political violence" became more commonly referred to as "terrorism," and how this transformation led to the current "war on terror."
Stampnitzky received a doctorate in sociology from the University of California at Berkeley. She has held fellowships at Harvard University, Oxford University, the Ohio State University, the European University Institute, and Stanford University.
The event is free and open to the public, and will be held in the Alumnae Library Theatre on the Elms College campus. For more information, contact Elms College Assistant Professor of Philosophy Jason Murphy at murphyjason(at)elms(dot)edu or 413-265-2373.
Elms College is a co-educational, Catholic college offering a liberal arts curriculum that gives students multiple perspectives on life. Founded in 1928 by the Sisters of St. Joseph, Elms College has a tradition of educating reflective, principled, and creative learners, who are rooted in faith, educated in mind, compassionate in heart, responsive to civic and social obligations, and capable of adjusting to change without compromising principle.