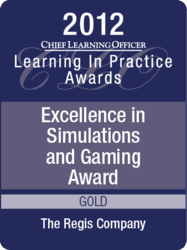 Transformational and Visionary Leader
Golden, CO (PRWEB) October 18, 2012
The Regis Company wins prestigious Learning In Practice Award from Chief Learning Officer magazine for Best Use of Games and Simulations: Air Command and Staff College (ACSC) Joint Planning for International and Multinational Operations. The company was awarded the Gold Excellence in Simulations and Gaming Award for its accomplishments in the design and delivery of interactive learning programs during the Fall 2012 Chief Learning Officer Symposium in Colorado Springs, CO.
"The Regis Company and ACSC worked diligently together to create a high performance professional military educational program to create immediate and sustained leadership improvement for the Air Force," said Mike Vaughan, President and Managing director. "These real-life mission scenarios allowed students to apply nuanced Joint Planning concepts while impacting life changing strategic development thinking."
The 2012 Learning in Practice Awards attracted more than 300 top corporate learning executives from around the world to discuss long-term learning strategies for creating and sustaining high performance. This is the 2nd year in a row that The Regis Company has earned this highly prized award for industry excellence.
For more information about the Learning In Practice Awards, please visit CLOmedia.com/awards.
About The Regis Company (formerly Regis Learning Solutions)
The Regis Company is a leadership consulting firm dedicated to developing great thinkers and leaders through the use of immersive simulations. Regis assists clients by helping them recognize the complex and underlying interrelationships of organizations as systems. This new way of thinking comes from applying system dynamics, in conjunction with critical and creative thinking. The advanced approach adeptly addresses client organizations' most difficult problems, while advancing leadership decision-making skills.
The Regis Company is headquartered in Golden, CO and serves both government and corporate clients wherever their leaders work across the globe. For more information about The Regis Company go to: http://www.regiscompany.com, or call 1.303.526.3005, ext. 111.