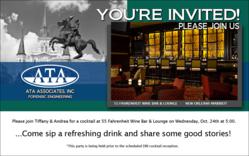 "I am looking forward to this event." Andi Richards
Houston, TX (PRWEB) October 18, 2012
ATA Representatives to Attend DRI Conference in New Orleans
ATA Associates, Inc. representatives, Andrea Roberts, Director of Sales, and Tiffany Nalepa, Project Manager, will attend the 2012 Annual DRI Meeting at the New Orleans Marriott, October 24th thru 26th. The Defense Research Institute (DRI) consists of defense lawyers and in-house counsels. Ms. Roberts and Ms. Nalepa will be at the ATA Associates booth #103 in the exhibit hall of the Marriott.
Please stop by 55 Fahrenheit Wine Bar and Lounge inside the Marriott on Wednesday, October 24th at 5:00 pm for a cocktail before the scheduled DRI reception.
For more information, contact Andrea Roberts, Director of Sales, 281-480-9847 or e-mail: robertsa(at)ataassociates(dot)com.