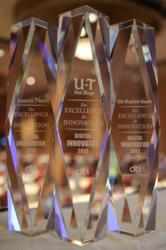 Springville, UT (PRWEB) October 16, 2012
Digital Technology International (DTI™) announced the three winners of its Digital Innovator Awards at DTIConnect 2012, the annual DTI user-group meeting held in St. Paul, MN.
The Digital Innovator Awards honor media companies that have used DTI software to create innovative solutions that made an impact on their business operations.
Digital Innovator Award winners:
Taking first place honors was U-T San Diego, San Diego, CA, with their Print and Digital Bundle initiative. Using the combo functionality in DTI Circulation, U-T San Diego integrated a full suite of digital products to maximize revenue, content value, and customer satisfaction. This combo/bundle innovation has streamlined the registration process, had incremental revenue growth, improved capabilities for collecting emails, and improved up-sell and cross-selling abilities into other print or digital products.
Second place went to the Deseret News, in Salt Lake City, UT. Deseret News used DTI ContentPublisher for their innovative Architect development. Architect is a floating Adobe InDesign palette giving in-house designers a tool to create dynamic, free-form layouts easily. The main benefit of Architect is increased productivity, allowing designers to very quickly create dynamic layouts from styles and library pieces created by Deseret News designers.
Third place was awarded to The Register-Guard, in Eugene, OR, for its innovative "adaptive/responsive" Web design using DTI ContentPublisher/Lightning with HTML5 and CSS3. Their website, registerguard.com, adapts automatically to any browser size.
Don Oldham, the company's CEO and founder, presented the stylized glass trophies to the three winners.
"Innovation has driven Digital Technology since the beginning," said Oldham. "Having innovative partners putting the technology to its highest and best use by adding their own creativity is the fulfillment of our aspiration to make a real difference in the lives and work of all of our newspaper customers. Our Digital Innovator awards allow us to recognize some of the best of the widespread innovation that is taking place. I sincerely congratulate this year's winners."
Digital Technology delivers Digital All Ways.
About Digital Technology International: Digital Technology International (DTI™) delivers digital audience engagement, digital revenue expansion and digital cost performance for the global news media industry. The company's innovative technology and professional services help media organizations engage audiences by delivering targeted news and advertising with Web, print, mobile, and social media. On-site or via DTI Cloud Digital Technology software helps more than 2,000 publishers around the world compete and win across all channels. The company is headquartered near Salt Lake City, with offices in Australia, Brazil, Canada, Finland, France, Germany, Panama, the United Kingdom and the United States. Digital Technology may be found at: ww.dtint.com