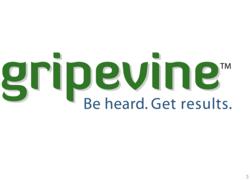 Gripevine recognizes that there is only one side to a good story, the right side, and that solving complaints is in everyone's best interest.
(PRWEB) October 16, 2012
A woman was brought to tears by a Kroger store manager who embarrassed her for using food stamps. A few weeks later, Cindy Nerger's story went from Facebook to the ABC News and Kroger issued her a public apology. Gripevine, a website that resolves consumer complaints, offers to help other unhappy customers get heard.
"Not every consumer complaint story can and will make the news," said Dave Carroll, co-founder of the complaint-resolution site, Gripevine. "This doesn't mean a consumer can't get heard. Gripevine assists consumers in receiving satisfactory resolutions to their gripes without their having to cultivate the support of the media."
Nerger rejected both the apology from a Kroger spokesperson and a $15 gift card saying she didn't plan on shopping at Kroger again. She wanted an apology directly from the manager who had publicly shamed her, reported ABC.
Besides helping customers, Gripevine provides a powerful online resolution management platform to assist companies with managing online customer care and feedback issues privately and securely. On Gripevine, customers can let companies know exactly what they would like to see a company do allowing companies to quickly review each issue and handle it accordingly. Speed to resolution can be the difference of whether a customer becomes a brand detractor or a brand ambassador in today's social media savvy society.
Unlike other social media outlets, Gripevine offers a neutral forum for companies and their customers to work together towards a win-win resolution to customer care and feedback issues. Businesses who sign up on Gripevine can showcase their proactive resolution initiatives building customer trust through transparency.
"Our goal is not to antagonize a company or bully them via social media into dealing with a customer service issue, but rather offer powerful tools to assist companies in the management of the resolution process," said Carroll.
Consumers can post legitimate complaints about any company on Gripevine. The complaints are then automatically routed to the attention of company decision makers who have the power to resolve them. The website makes complaint resolution easier for both consumers and companies by offering online services that range from easy to follow prompts to a proprietary resolution dashboard.
"What I like most about Gripevine is that it doesn't pit one side against another and fuel confrontation. Gripevine recognizes that there is only one side to a good story, the right side, and that solving complaints is in everyone's best interest," said Carroll.
Unhappy customers also get to keep their lives private.
"Once a story is picked up by the news, the media usually demands more than what some people want to share. It's unknown whether Cindy Nerger minded sharing the circumstances surrounding her family's difficulties, but isn't it nice to know you can get the attention of a company and keep your private life private" said Carroll.
If you need a complaint resolved, be heard on Gripevine.
About Gripevine:
Gripevine connects customers and companies on a fair and level public playing field where they can come together to create win-win resolutions to legitimate consumer complaints. Consumers can use Gripevine to leverage the power of social media to get their stories heard. Companies can use their Customer Satisfaction Index on Gripevine to show the world the ranking of their customer service. By leveraging the power of social media, both groups of users can ultimately affect a company's Customer Satisfaction Index on Gripevine helping companies build trust through transparency with their customers.