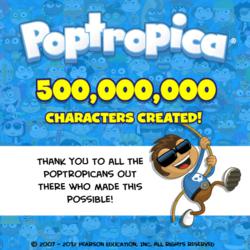 We're incredibly excited to welcome the 500 millionth Poptropican into our virtual world.
BOSTON, Mass. (PRWEB) October 23, 2012
If Poptropica, the popular virtual world for kids, were a country, it would be the third largest in the world (after China and India), thanks to the recent creation of its 500 millionth character. And it would make for a very diverse nation, with kids representing over 100 native languages and more than 130 countries visiting the site each month.
Poptropica launched with just one Island in September 2007. Just five years later, the site boasts 30 Islands, with the recent launch of Super Villain Island. All Poptropica Islands are free to play, and each represents a unique theme and challenge. Earlier this year, Poptropica Friends launched, and players responded enthusiastically by adding over 60 million friends in under five months.
"We're incredibly excited to welcome the 500 millionth Poptropican into our virtual world. When we started in 2007, we never could have imagined that we'd see a day when half a billion avatars inhabited Poptropica," said Jeff Kinney, Poptropica creator and author of the bestselling "Diary of a Wimpy Kid" series. "And we feel like we're just getting started. We have so many new Islands to create and so many more stories to tell. We can't wait to greet the next 500 million Poptropicans who drop into our world."
Named as one of TIME magazine's Top 50 websites of 2011, Poptropica has grown into a global brand with toys, books and more. In the near future, new 2-inch collectible Pocketeers will join its line of plush characters and poseable figures from Jazwares, and the Poptropica line of print books will expand beyond "Poptropica: The Official Guide" with four new titles available in November 2012.
"It is amazing to think that there are as many characters on Poptropica as there are Twitter accounts," said Jess M. Brallier, publisher of Poptropica. "That kind of growth in just five years is a tribute to how much fun kids all around the world are having on our virtual world, getting immersed in great stories, completing challenging quests and engaging in Poptropica's new Friends offering."
The site's creators have developed a wide variety of fun and helpful tools to grow the Poptropica community and help kids explore the safe, fun and social virtual world. Kids looking for Poptropica tips and secrets can check out "Poptropica: The Official Guide," featuring a detailed walkthrough of the site as well as background on some of the Islands, characters and behind-the-scenes content. Or they can download the Poptropica Official Tips & Tricks app, available in the iTunes Store and the Android Market. The Poptropica Creators' Blog keeps kids up to date on news about upcoming new Islands and other exciting developments at http://blog.poptropica.com/.
About Poptropica (http://www.poptropica.com)
Poptropica is a virtual world in which kids explore and play in complete safety. Every month, millions of kids from around the world are entertained and informed by Poptropica's engaging quests, stories and games.
Kids create a "Poptropican" character to travel the many Islands of Poptropica and use gaming literacy to enjoy a narrative that is often rooted in factual history. Problem-solving skills are honed as kids discover and solve mysteries unique to each Island.
There are always new areas to explore in this ever-expanding world where kids can collect objects, read digital books and comics, watch movies, and compete in head-to-head competition. Parents can always trust that their children are playing – and learning – in a safe online environment.
Poptropica is published by Family Education Network, a part of Pearson, the education, services and technology company. Pearson's other primary operations include the Financial Times Group and the Penguin Group.