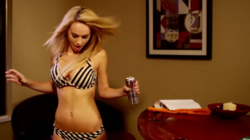 5150 is a code in the California penal system for 'crazy'.
Fresno, CA (PRWEB) October 17, 2012
Energy drink company 51 Fifty hires California video producers Blare Media to shoot a new commercial for its line of libido-increasing soft drinks. The line includes maca root, a substance proven to increase sexual desire in men.
Fresno multimedia production company Blare Media has wrapped production on a commercial for a new energy drink line called 51 Fifty, which contains an ingredient said to increase sexual desire. The ingredient is maca root, demonstrated to increase sexual desire according to a study published in medical journal Andrologia.
The humorous spot opens with a bored, listless 20-something couple on a couch who is interrupted when a tough-looking "pizza delivery man" arrives with a pizza and a little something extra — a couple of cans of 51 Fifty Energy Drink. As each actor opens his or her drink, their clothes are quickly and magically whisked away, as if to demonstrate the libido-enhancing power of the beverage. An exterior shot reveals that the real pizza delivery guy has been tied up and struggles to break his bonds as the mysterious leather-clad Good Samaritan powers off on his motorcycle.
The director of the spot is Johnny Soto, who helmed the movie Show Boys. Project Manager Blake Barnett said of the shoot, "We had a lot of fun with this project, obviously. Director Johnny Soto helped us make a high-energy spot with dynamic camera moves, quick cuts and flashy effects, exactly what the client was looking for. It's attention grabbing and funny, and captures the spirit of the drink line."
Barnett continued, "5150 is a code in the California penal system for 'crazy,' so we took some creative liberty in showcasing the product while being a little adventurous. We knew the client would be on board with it and it worked out well."
Blare Media specializes in Hollywood-quality video productions while avoiding Hollywood-size budgets through efficient all-digital workflows and right-sized crews. Past productions include numerous commercials, infomercials, corporate videos, music video, film trailers and shorts. In addition to its home office in Fresno, the firm has satellites in San Francisco, San Jose, Walnut Creek, Sacramento, Fresno, Los Angeles, Las Vegas, Seattle and Dallas.
Companies interested in learning more about Blare Media's video production services can visit http://www.BlareMedia.net or contact Blake Barnett at 1-866-337-8331.