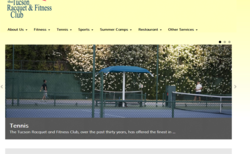 Tucson, AZ (PRWEB) October 17, 2012
Local company, Nuanced Media, has recently been sweeping the internet. Nuanced Media's website design team just finished remodeling Tucson Racquet and Fitness club's webpage. Through specific marketing, Nuanced Media can push your website to the top.
Nuanced Media creates a unique design for each individual company. CEO Ryan Flannagan proclaims, "At Nuanced Media, we strive to create the best website design in Tucson, Arizona". Through SEO, keyword targeting, graphic design, and social media marketing, Nuanced is looking to revamp how Arizona views online businesses.
In the past few years, more and more companies are putting more time and focus into creating a more user friendly webpage. Nuanced looks to make your website look exceptional, as well as driving more traffic and revenue to our web pages.
Tucson Racquet and Fitness club provides more than tennis courts and a spa. With a membership, the customer will have access to Summer Camps, Basketball, Swimming, Tae Kwon Do and much more!
Tucson Racquet and Fitness club also offers a salon, massages, restaurant, child care and a pro shop. Whether you are the fitness guru or looking to get into a healthier lifestyle, Tucson Racquet and fitness has everything you need!
About Nuanced Media:
Nuanced Media is a revolutionary marketing, website design and business consulting website. We pride ourselves in our hard work and dedication to drive more consumers towards your webpage. Through social media marketing, search engine optimization, and personalized graphic design we ensure that your company will love our work.
Follow us on Facebook and Twitter