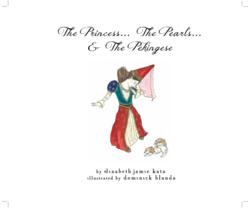 This will be a hit throughout the year, but should be big for the holidays.
-- CBA Book Buyer
Orlando, FL (PRWEB) October 18, 2012
Take one young girl, with a great imagination, and one great pet, and you've got what it takes to get into some wonderful adventures. Add the fact that the young girl has an understanding of how important she is to God, and the adventures become even more amazing and enjoyable. That's what happens to Isabella in "The Princess, the Pearls & the Pekingese," a new beautifully illustrated book for young girls between the ages of 4 and 11. Author, Jamie Katz brings her young readers and their parents, the first of a planned series. Initial response to "The Princess" has been overwhelming.
Dreams can come true. Jamie Katz of Mandeville, Louisiana, knows that to be a fact. One night she dreamed about a young girl – a young princess, who loved to dress up with pearls and go on adventures with her pet Pekingese. That dream kept reoccurring, and Katz allowed her creative imagination to take over – producing the concept for a series of illustrated books for girls ages 4-11. But, as most of us understand, concepts aren't always enough.
With the support of her husband and family, Jamie began searching for an illustrator, who could bring her characters, settings and message to life. Her efforts paid off, when she met Domick Blanda, a New Orleans-area artist with a flair for color and form. He grasped the importance of having the pages grab a little girl's attention, so that Jamie's message could be told. The rest is history.
When "The Princess, the Pearls & the Pekingese" appeared at the Christian Booksellers Association's International Retail Show in Orlando, one of the most frequently heard comments came from buyers who were drawn to the exhibit booth of DC Press LLC. They "couldn't take their eyes off Blanda's fantastic artwork."
It was when the books were opened, that these same buyers (many of them parents, aunts and uncles, grandparents) were then able to read the storyline that author Katz had created. The book became an instant hit at the show (as it had earlier in June at Book Expo America in New York).
The "princess" in the story, is an average young girl, whose love for people and life takes her on one adventure after another. But the one message that follows her every move, and permeates the book, is how much God loves her. The powerful message of God's love for young girls and their importance in his plan for us all, comes through, page after page.
Isabella lives with her mom, dad, little brother, and of course, her precious Pekingese, Lizzie. She enjoys doing lots of activities – especially dancing, riding horses and having tea parties! But her favorite thing is dressing up in her fanciest princess dress and wearing her pearls because they remind her that she is a beautiful treasure greatly loved by her Heavenly Daddy! She has a special message for all young girls: "You too are a princess – God's unique and beautiful daughter!"
With an abundance of illustrated books for children on the shelves of bricks-and-mortar bookstores across America, and with Amazon.com offering even more, Jamie Katz never gave the idea of "competition" a second thought. She began with the conviction that young girls have a need to their importance in the world and especially in the eye of God. With that in mind, she created "The Princess…The Pearls…& The Pekingese." And considering that there are more than 25 million children between the ages of 4 and 11 in the U.S. -- more than half of them are girls -- that leaves a large number for Katz to reach out to, with her stories. When she has appeared for book signings at bookstores, the audiences are typically filled with young girls, who bring along the adults in their lives.
Blanda's illustrations, combined with the story told by Jamie Katz, is a great read for any young girl, in any church, in any denomination. The story is perfect for any young girl, regardless of Christian affiliation or denomination.
Jamie Katz is available for interviews, story telling times and speaking engagements.To keep up on events regarding the storybook, visit the website http://princesspearlsandpekingese.com.