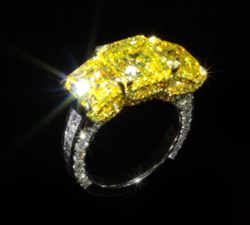 Sunrise, Florida (PRWEB) October 18, 2012
A one-of-a-kind ring sold today to a lucky private investor with diamonds totaling 11.68 carats and valued at $1,200,000.
This ring created its own class as a trifecta of sorts. Three distinctly cut and extremely rare yellow diamonds were painstakingly selected and commissioned by Harold Seigel, of rarecoloreddiamonds.com, to create this exquisite piece.
The center stone is the 4.21 carat Internally Flawless Fancy Vivid Yellow Asscher cut diamond. Flanking the center stone is the 2.30 carat Natural Fancy Vivid Yellow VS1 and the 2.37 carat Fancy Vivid Internally Flawless Yellow emerald-cut stones. Each unique diamond perfectly matches the entire ensemble with its yellow hue.
Calculation and precision cutting produce the absolute highest standards of symmetry using cutting edge technology. Stefano Designs Inc, located in the heart of the diamond district in New York City, brilliantly manufactured the Dream Ring.
The general public is becoming more and more aware of the uniqueness of colored diamonds and the thirst for them. Only 1 carat out of ever 10,000 carats of diamonds mined, possess color. Their beauty, rarity, and increasing demand keep value consistent over time.
Seigel, host of the popular online radio show, The World Financial Report, is extremely satisfied with the amazing return his client will earn with the Dream Ring.
When asked why he was so confident, Seigel responded, "It is a no brainer. People aren't looking to get rich quick. They just want dependability. I see many turning to colored diamonds world-wide."
More information about the Dream Ring can be found at fancyyellowring.com To acquire more information about rare colored diamonds visit rarecoloreddiamonds.com and hsfineauctions.com.