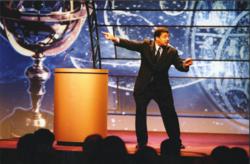 "With his background in science, technology and education – as well as his reputation for spell-binding presentations – Dr. Neil deGrasse Tyson fits the bill perfectly!" - David Ratcliffe, Pink Elephant's President
Toronto, ON (PRWEB) October 17, 2012
Pink Elephant announced today that award winning Astrophysicist and science celebrity, Dr. Neil deGrasse Tyson will be the featured keynote speaker at "Pink13", the company's annual IT Service Management Conference and Exhibition. "Our annual Pink conferences are considered across the board to be the biggest ITSM event of the year in the world", said David Ratcliffe, Pink Elephant's President. "Each year our team strives to make the next year better than the last and I have to admit, adding Dr. Tyson as the lead keynote to this year's lineup is going to be hard to top."
On February 18, 2013 at the Bellagio in Las Vegas, Dr. Tyson will challenge the audience of about 2000 attendees to think out of the box while embracing change in anticipation of the "Next Big Thing" – subject matter that pollinates throughout Dr. Tyson's recent presentations and lectures he performs around the world. "When we're building the program for our annual IT Service Management Conference we always look for keynote speakers who can educate, entertain and inspire", added Ratcliffe. "With his background in science, technology and education – as well as his reputation for spell-binding presentations – Dr. Neil deGrasse Tyson fits the bill perfectly!"
As a world-renowned Astrophysicist, best-selling author and radio and television personality, Dr. Tyson is relentlessly interested in the discoveries of science that humbles, connects and inspires humanity. Armed with a quick wit and infectious passion for knowledge, he is an informative and dynamic communicator who is often sought after by talk shows and mainstream television. Tyson has made several appearances on The Daily Show, Late Night with Jimmy Fallon, Conan O'Brien and The Tonight Show, and has even had cameo roles in popular television series like The Big Bang Theory, Stargate Atlantis and NOVA.
Dr. Tyson will head up an impressive panel of other impressive speakers, not least of which is US Airways pilot, national hero and author, Capt. 'Sully' Sullenberger, the man who successfully landed a commercial jetliner into the Hudson River, saving all 155 passengers and crew. Conference MC, Wayne Cotter, a popular comedian on the late show circuit, will also be introducing the audience to award winning authors Sally Hogshead, Matt Ridley and Chester Elton. "I'm convinced our attendees will be totally wowed by what they'll learn, how they'll be entertained and – most of all – how I believe they'll be inspired into action with new information and ideas."
Beyond being thoroughly educated and entertained by the general sessions, Pink13 delegates will have their choice of 15 tracks of over 160 breakout sessions covering subjects like Business and IT Alignment, Continual Service Improvement Metrics and Managing Chaos. As an added value to the conference, Pink Elephant is offering pre-and post-conference ITIL®, Lean IT and PRINCE2® certification courses. Additional information on Pink13 and its speaker lineup can be found at http://www.pinkelephant.com/Pink13. Those interested in attending Pink13 are encouraged to register before October 26, 2012 in order to take advantage of Pink Elephant's Early Bird promotional offer.
About Pink Elephant
Pink Elephant is the global leader in IT Service Management consulting, education and conferences. To date, hundreds of thousands of IT professionals worldwide have benefited from Pink Elephant's ITSM best practices and rich history as an ITIL® authority.
For more information about Pink Elephant, the Pink13 Conference or any of the other services offered by Pink, visit http://www.pinkelephant.com.
###
For further information, please contact:
Lynda Byrne 
Marketing Assistant
Pink Elephant 
Tel: +1-905-331-5060, Ext. 359
E-mail: l.byrne(at)pinkelephant(dot)com
ITIL® is a Registered Trade Mark of the Cabinet Office.
PRINCE2® is a Registered Trade Mark of the Cabinet Office.