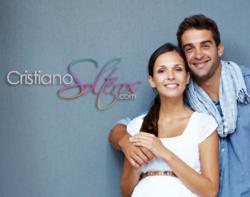 it was time to introduce more features to our site
Torrance, California (PRWEB) October 18, 2012
In order to offer its growing member base the latest in online dating features, leading Latin dating site CristianoSolteros.com is introducing paid memberships starting November 1, 2012. Along with the site's already multiple features, paid memberships will offer advanced features like Latin chat, member-to-member email, and more.
CristianoSolteros.com officials will announce the paid membership price at the time of launch. Company officials say the price will be significantly cheaper than paid memberships offered by those of competing dating sites.
CristianoSolteros.com currently offers free basic memberships for all of its members. These free memberships will still be available when the paid memberships launch.
ChristianoSolteros.com representative Maggie Danhieux explained the site's need for paid memberships:
"We've seen a large increase in memberships over the last several months and felt that it was time to introduce more features to our site. Besides Latin chat our new paid memberships will offer many other latest in online dating features, making it easier for Latin singles to find true love Not only that, but our memberships are much more affordable than those of our competitors."
About CristianoSolteros.com
Part of a leading Christian dating network established in 1997, CristianoSolteros.com is unique in its approach: all of its members are committed to seeking out long-term, faithful relationships. Unlike most dating sites, dating services within the network do not allow casual dating. The sites of this Christian online dating community have gained great popularity and are frequented by Christians from all over the world. An approved member of the BBB online Reliability Program, Christian Singles Commitments Corp is committed to providing safe and secure online dating.