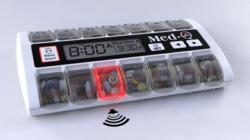 Phoenix, AZ (PRWEB) October 18, 2012
Inventor, Troy Holbrook used his experience of working with nurses and patients to design the MED-Q Pill Box. Troy said, "Our ground up approach is what led to the creation of the MED-Q as a key tool to help caregivers in their role of taking care of their families and loved ones. He felt anything that made their jobs easier was of utmost importance.
Take into account some of these staggering statistics:

Women who are family caregivers are 2.5 times more likely than non-caregivers to live in poverty and five times more likely to receive Supplemental Security Income (SSI).
Study conducted by researchers at Rice University and data compiled from the Health and Retirement Study funded by the National Institute of Aging and conducted by the University of Michigan, 1992-2004

47% of working caregivers indicate an increase in caregiving expenses has caused them to use up ALL or MOST of their savings.
Evercare Survey of the Economic Downturn and Its Impact on Family Care-giving; National Alliance for Care-giving and Evercare. March 2009

The average family caregiver spends $5,531 per year on out of pocket care giving expenses in 2007 which was more than 10% of the median income for a family caregiver that year.
Valuing the Invaluable: The Economic Value of Family Caregiving, 2008 Update. AARP

Family caregivers experiencing extreme stress have been shown to age prematurely. This level of stress can take as much as 10 years off a family caregiver's life..
Elissa Epel, Dept of Psychiatry, Univ of Calif, SF, From the Proceedings of the National Academy of Sciences,
Caregivers are over worked, underpaid and under appreciated. In a busy world they forget to remind others to take their medication properly. With the MED-Q Pill Box Dispenser System forgetting has become virtually impossible. MED-Q Pill Box has been designed to ease the burden of Caregivers. The fact of the matter is more than 65 million people, 29% of the U.S. population, provide care for a chronically ill, disabled or aged family member or friend during any given year and spend an average of 20 hours per week providing care for their loved one. All this is done with out the help of a reliable, affordable way to ensure Medication Compliance. The "All-in-One" MED-Q Electronic Pillbox Dispenser reminds you with dual alarm technology. You set the alarms for the times you choose and they will remind you with a flashing light on the individual box that needs to be taken, This is MED-Q's patented LED-Litebox Technology. The unit has an audio alarm as well that repeats it's cycle every 25 minutes until the medication is taken. Technology offers an ingenious way of eliminating medication errors.
Head quartered in Phoenix, Az, the MED-Q is becoming a tool that helps solve so many problems at such a small cost. MED-Q Pillbox Dispenser System has helped people "RESOLVE TO BE HEALTHY". View at Lifesavingpillbox.com or send questions to Info@lifesavingpillbox.com.