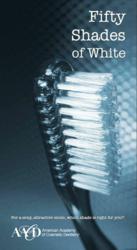 Tooth colors need to be in harmony with the skin tone and whites of the eyes.
Madison, WI (PRWEB) October 22, 2012
Bright smiles continue to be in demand with increased visits to cosmetic dental offices and through in-home whitening treatments, according to a poll of member dentists at the American Academy of Cosmetic Dentistry AACD.
AACD members performed an average of 61 whitening treatments last year, and 45 percent said they expect this number to rise. Twenty-five percent said their patients have told them they use over-the-counter or commercially available whitening treatments.
"We continue to do a brisk practice of whitening in our office," says Shannon Pace Brinker, certified dental assistant at Oceanfront Dentistry in Virginia Beach, Virginia and clinical editor for Contemporary Product Solutions magazine. Pace Brinker performed more than 200 whitening treatments in the past year. She credits the business uptick to treatment acceptance of effective whitening systems with options based on bleaching strength, time, finances, and patient compliance systems within her practice.
The average price for a professional whitening treatment is about $150 for take-home whitening and $350 for in-office, Pace Brinker says.
Gender-wise, it seems that women are more concerned with a white smile. Roughly 70 percent of dental patients seeking whitening treatment last year were female, according to the poll.
"I think women are used to paying higher fees for services to make us look and feel better," Pace Brinker says. "But we definitely see a growing interest among males who want a brighter smile for personal and professional reasons."
Choosing the Right Shade
AACD cosmetic dentists say that, unlike over-the-counter whitening products that offer a generic solution, a professional treatment offers patients options when selecting a customized shade of white that blends naturally with their own features.
"Tooth colors need to be in harmony with the skin tone and whites of the eyes," says Dr. Frank Milnar, an AACD accredited cosmetic dentist from Minnesota. "Hollywood white smiles can be distracting because you tend to look only at a person's teeth and not at their whole face."
Milner notes a natural smile is actually "polychromatic" or a nuanced combination of colors, something a professional dentist can help patients determine. Over-whitening can cause teeth to become more monochromatic and opaque.
For more information about whitening, selecting the right shade and other techniques for a more attractive smile, visit http://www.aacd.com/FiftyShades.
About the AACD
The AACD is the world's largest non-profit member organization dedicated to advancing excellence in comprehensive oral care that combines art and science to optimally improve dental health, esthetics, and function. Comprised of more than 6,400 cosmetic dental professionals in 70 countries worldwide, the AACD fulfills its mission by offering superior educational opportunities, promoting and supporting a respected Accreditation credential, serving as a user-friendly and inviting forum for the creative exchange of knowledge and ideas, and providing accurate and useful information to the public and the profession.