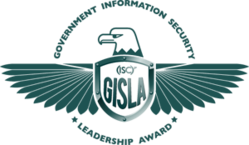 Palm Harbor, Fla. (PRWEB) October 16, 2012
(ISC)²® ("ISC-squared"), the world's largest not-for-profit information security professional body and administrators of the CISSP®, today announced the recipients of its ninth annual U.S. Government Information Security Leadership Awards(GISLA) program.
GISLA judges, who include some of the most accomplished information security leaders from both public and private sectors, assessed the achievements and influence of a select group of nominees and awarded GISLAs to individuals and teams in five distinct categories. The 2012 GISLA recipients are as follows:
Category: Community Awareness
The U.S. Federal Aviation Administration (FAA) Awareness, Training and Evaluations Division Team, led by Nancy Hendricks, CISSP, information systems security specialist. The Team is responsible for providing information system security training services throughout the Department of Transportation. With open communication, defined workflows, cutting-edge development tools and a relentless focus on continuous improvement, the AIS-200 Team has achieved quantifiable results in support of various administrative requirements, among them launching a six-month campaign to ensure that at least 95 percent of the user population completed annual awareness training by a set date and ensuring that the almost 600 ISS specialists received their mandatory ISS role-based training.
Category: Federal Contractor
The U.S. Department of Defense's Joint Capability Technology Demonstration (JCTD) Adaptive Red Team, led by David Rohret, CEH, Security+, CHFI, ECSA/LPT, CNDA, senior principal systems engineer, CSC. The JCTD ART was asked to accurately replicate real-world hackers, cyber armies and cyber criminals in how they would attack the DoD and, in response, developed a process for applying effects-based (goal-oriented) scenarios, rather than traditional technology-centric approaches. This novel concept of cyber security looks at the target set through the adversary's eyes, attacking and assessing from every approach to determine the most likely vector of attack for repeatable actions and the greatest impact.
Category: Process/Policy
Janet Stevens, PMP, chief information officer, USDA Food Safety and Inspection Service (FSIS), is committed to improving FSIS's Information Assurance Division (IAD) through cyber security awareness, communication, and organizational efficiency, as evidenced in her innovative use of social media. Among other initiatives, she contributes regularly to the OCIO blog, Ping, and the FSIS CIO newsletter, providing her agency with an in-depth explanation of cyber security issues and practices and updates on the latest IAD news. Her commitment to these combined efforts ensures that every member of the FSIS community, from security officers to office staff, is aware of cyber security.
Category: Technology Improvement
The U.S. Air Force's Military Satellite Communications (MILSATCOM) Systems Directorate's Host Based Security System (HBSS) Pilot Integration Team, led by Steven Martin, CISM, information assurance manager. The Team leads a diverse partnership between U.S. government, contractor, and industry stakeholders to address the significant challenge of integrating the HBSS baseline on a Space Mission System. The team was able to complete the project in less than two months by formulating, documenting and completing a proof of concept as a pathfinder model for future implementation. The collaboration also benchmarked the successful migration from an enclave to enterprise approach for implementing, monitoring, and reporting IA security of MILSATCOM systems.
Category: Workforce Improvement
The U.S. Army Reserve's Information Operations Command (AROIC) Cyber Warrior Training Development Team, led by Col. John Diaz, CISSP, CRISC, professional engineer and commander. The 10-person cadre of certified cyber security professionals implemented a training strategy that systematically trains and transforms AROIC soldiers into elite, combat-ready cyber warriors who are called upon to protect, monitor, analyze, detect, and respond to unauthorized activity on the Army's information systems and computer networks.
For more information on the GISLA program, including past recipients, selection criteria and eligibility requirements, please visit http://www.isc2.org/gisla.
Links:
Government Information Security Leadership Awards (GISLAs)
Media Contact:
Courtney Jewell Beveridge
Extension Group
(703) 618-8205
cbeveridge(at)extensiongroup(dot)com
© 2012, (ISC)² Inc. (ISC)², CISSP, ISSAP, ISSMP, ISSEP, and CSSLP, CAP, SSCP and CBK are registered marks of (ISC)², Inc.
Tags: CISSP, (ISC)2, GISLAs, security professional, security award