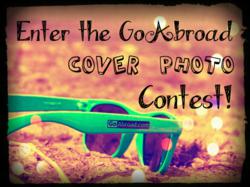 Get your travel photography seen and be entered to win an exciting new spring break giveaway!
Fort Collins, CO (PRWEB) October 17, 2012
GoAbroad.com is thrilled to announce the launch of a Facebook Cover Photo Contest and Spring Break Giveaway! This is an opportunity for students and travelers to get their travel photos seen with GoAbroad, as well as a chance to be entered to win an alternative spring break volunteer trip around the world!
For study abroad students and alumni who are looking to get their work showcased in front of international audiences, this Cover Photo Contest is one to take advantage of. GoAbroad's Facebook page reaches over 39,000 fans and is broadcast to even more world travelers through GoAbroad's multiple social media communities, encompassing over 50,000 world travelers. Entering this contest is also as easy as it sounds.
All details regarding how to enter the contest, what is required, and terms and conditions, can be found on the GoAbroad Blog:
Click here to read more about the GoAbroad Cover Photo Contest!
The GoAbroad Cover Photo Contest will run from October 8, 2012 until January 2013. Starting October 15, 2012, GoAbroad will feature a top entrant's photo on GoAbroad's Facebook Page, so start getting those submissions entered! In January 2013, the top entrants of the contest will be entered into an online poll to win a special spring break trip giveaway.
************************************************************
The Giveaway - Win a Volunteer Trip Around the World!
************************************************************
In January 2013, all of the top entrants of the contest who have been featured on GoAbroad's Facebook Page will be entered into a giveaway, with the chance to win an alternative spring break volunteer trip around the world!
In deciding the winners of the trips, the top photos will be voted on through an online public poll on GoAbroad's Facebook page. After voting concludes, the photos that received the most votes will be eligible to receive a spring break trip! Stay tuned for more details about what each specific trip will include, and where it will be located! In the meantime, GoAbroad encourages students to visit the GoAbroad Blog to fill out the necessary form for a chance to win.
About GoAbroad.com
For nearly 15 years, GoAbroad.com has been the web's premier resource for meaningful international experiences and alternative travel opportunities and this standard of quality has only continued to develop. From GoAbroad's GoMedia services, which offer a distinct range of internet marketing solutions for international educators, to the prestigious GoAbroad Innovation Awards, and our newest initiative - FundMyTravel - an online crowd funding site to help students raise money for meaningful travel experiences , our team is dedicated to providing the most comprehensive resources to the field of international education.