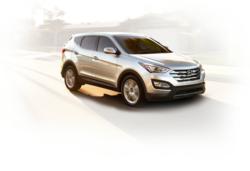 The 2013 Sonata, Santa Fe, and Elantra are available now at Chapman Hyundai along with the complete lineup of new models.
Phoenix, Arizona (PRWEB) October 18, 2012
The 2013 Hyundai full model lineup promises something special for every Phoenix Hyundai driver – comfort, technology, style, space – all at an affordable price and the assurance that comes with America's Best Warranty.
The newest collection of innovative sedans, SUVs and urban-friendly gas-sippers can be found at Chapman Hyundai on Bell Road. Most Phoenix Hyundai dealers are now offering a plethora of savings on 2013 models such as the Hyundai Sonata, Santa Fe, and Elantra.
Phoenix Hyundai Sonata fans will appreciate the popular sedan's trailblazing recipe of high-design and high fuel efficiency with more features, higher value, and better residual value than ever before. With ratings of 24 mpg city, 28 combined, and 35 on the highway, the 2013 Sonata continues to impress owners with improved fuel efficiency and lower emissions. Add in to the mix state-of-the-art braking package, standard Electronic Stability Control equipment, six airbags, XM, HD radio, Bluetooth, touch-screen navigation, and Hyundai's Blue Link safety, service and infotainment package, the Sonata makes for a powerful contender in the mid-size segment.
Another Hyundai model that gets refreshed for the 2013 model year is the third-generation Santa Fe crossover. Hyundai's two all-new 2013 Hyundai Santa Fe models introduce the two-row, five-passenger Santa Fe Sport and the long wheelbase three-row, seven-passenger model called Santa Fe. The all-new Santa Fe family showcases the brand's cutting-edge capabilities through "Fluidic Sculpture" design, impressive fuel economy and a host of features to delight Phoenix drivers and passengers with high expectations for functionality and comfort. The all-new 2013 Santa Fe Sport is on sale now at Chapman Hyundai, with the larger Santa Fe expected to be in the showroom in January 2013.
Finally, with the two additions to the Elantra family, customers now have the option of choosing between the GT, Coupe and Sedan. Unveiled earlier this year, the 2013 Elantra GT and Coupe expand the Elantra family to reach youthful and sporty buyers. The GT features European driving dynamics and five-door functionality. The Coupe caters to those who enjoy the compact coupe features, with a sporty design. The 2012 North American Car of the Year, Elantra Sedan continues to be one of the hottest selling cars in the country.
The 2013 Sonata, Santa Fe, and Elantra are available now at Chapman Hyundai along with the complete lineup of new models.