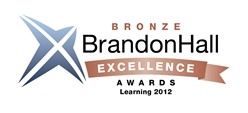 Golden, CO (PRWEB) October 18, 2012
The Regis Company along with Hyatt Hotels Corporation accepts Brandon Hall Group Excellence in Learning Award with a bronze medal for "Best Use of Video for Learning," utilizing Hyatt Sales Leadership Stories. The 2012 Brandon Hall Group Excellence Awards program recognizes the best of the best in Learning, Talent Management, and Sales and Marketing.
"Hyatt Hotels is progressive in their approach to developing leaders," states Kevin Himmel, Managing Director. "Being recognized for our work with such a great organization is an honor." The Regis Company was also awarded a gold medal for a leadership simulation, "Best Custom Content, 2012."
The entries were evaluated by a panel of veteran, independent senior industry experts, Brandon Hall Group Sr. Analysts and Executive Leadership based upon the following criteria: fit the need, design of the program, functionality, innovation, and overall measureable benefits.
For more information about The Regis Company's Brandon Hall Awards: http://www.brandonhall.com/awards/excellence-in-learning/winners-of-the-2012.html
About The Regis Company (formerly Regis Learning Solutions)
The Regis Company is a leadership consulting firm dedicated to developing great thinkers and leaders through the use of immersive simulations. Regis assists clients by helping them recognize the complex and underlying interrelationships of organizations as systems. This new way of thinking comes from applying system dynamics, in conjunction with critical and creative thinking. The advanced approach adeptly addresses client organizations' most difficult problems, while advancing leadership decision-making skills.
The Regis Company is headquartered in Golden, CO and serves both government and corporate clients wherever their leaders work across the globe. For more information about The Regis Company go to http://www.regiscompany.com, or call 1.303.526.3005, ext. 111.