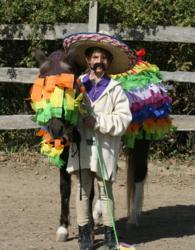 Clarence, NY (PRWEB) October 17, 2012
Spruce Meadow Farm is an acclaimed horse farm, and riding and training facility in Clarence, New York. The center specializes in English horseback riding lessons, as well as boarding, riding camps, special horse shows, and various seasonal events.
As the business expands their influence into social media, they would like to announce a special Facebook discount on riding lessons: everyone who "likes" the farm on Facebook will receive a $10.00 discount.
Once you have "liked" the page, just email the farm at sprucemeadow(at)gmail(dot)com and you will receive your discount!
The facility's Fall Trail Lessons are one of the most popular offerings at Spruce Meadow Farm. This one-of-a-kind experience consists of a groom & tack, warm-up & trail ride. These lessons will be held during the months of September, October and early November, weather permitting.
An anticipated upcoming event at the Spruce Meadow Farm is the annual Halloween Horse Show & Costume Class. This autumn tradition features horses and their riders dressed to the nines in Halloween costumes that range from spooky to silly.
There will be classes for all levels of riders, from Walk-Trot through Jumping. There will also be a "Rescue Horse Obstacle Course Class". People can support the rescue horses by purchasing tickets to "vote" for the winning horse. There will be a drawing from the winning horse's ticket jar for a surprise gift card!
The show will be held, rain or shine, on Sunday October 21st. It starts at 9:30 and will continue until late afternoon. Bring your appetite as well. Breakfast, lunch and refreshments will be available! Please click here to view the Halloween Show.
Another fall event that will interest farm visitors is the Halloween Carnival benefit to help cover food and medical expenses of the rescue horses. This family-friendly event features contests, game, pony rides, prizes and a haunted house. It will be held Friday October 26th and Saturday October 27th from 5pm-8pm at the farm, rain or shine!
The center also hosts pony parties either on-site or at a customer's chosen location, offering reasonably-priced pony rides ideal for birthday parties, family reunions and carnivals.
Spruce Meadow Farm urges their fans not just to "like" them on Facebook for the discounts, however. The business' new page on the site provides frequent updates to riders about special deals, upcoming events, and everyday life on the farm.
Folks who sign up on the Spruce Meadow Farm mailing list - you can sign up by visiting their website at SpruceMeadowFarm.net - will receive access to the latest information on the regular goings-on at this friendly riding facility. You can also see more about the farm and its horses by checking out their YouTube Channel.
The business' family atmosphere means guests will always feel welcome and relaxed, and the insightful and effective riding classes provide a means to get closer to a special equine friend more than ever before.
About the company:
Located at 10333 Keller Road in Clarence, New York, Spruce Meadow Farm focuses on English horseback riding and offers boarding & leasing, training, horse lesson riding, horseback riding camps, horse shows, clinics, all kinds of horseback riding in New York and much more!
They take pride in their friendly atmosphere, facilities and the effectiveness of their programs, and invite people to experience it for themselves.
At Spruce Meadow Farm, they want all animals to find safe, loving homes. For more information, please visit their site at SpruceMeadowFarm.net.