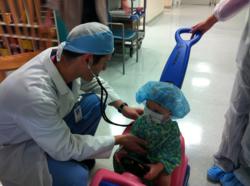 "I'm hopeful that other institutions will evolve their practices to include the use of Blake drains in these young patients."
Loma Linda, CA (PRWEB) October 16, 2012
Pediatric heart surgeons at Loma Linda University Medical Center (LLUMC) are performing what has proven to be an innovative procedure in postoperative care.
A team led by pediatric cardiologist, Brent M. Gordon, conducted a study, Blake Drains: A Novel Method of Chest Drainage after Extracardiac Fontan Operation with Autologous Pericardium, which began in March 1995. The study, recently published in The Annals of Thoracic Surgery, tested the overall effectiveness of Blake Drains in 162 patients after Fontan completion---the final stage of reconstruction for infants born with only half of a heart. The study determined that the drains are effective, and their use had no important side effects or complications. Blake drains, which are about the size of a straw and made of soft silicone rubber, are less costly, less painful, and patients may be sent home safely with the drain(s) in place.
"Loma Linda University Medical Center and Children's Hospital has used Blake drains for most postoperative patients who have undergone procedures for congenital cardiac conditions since the early 1990's," said Dr. Gordon. "I'm hopeful that other institutions will evolve their practices to include the use of Blake drains in these young patients."
Blake drains are inserted in the patient's chest to remove the excess fluid that can collect around the heart and lungs after a patient undergoes an open heart surgical procedure. The Blake drain is a more flexible, non-collapsible alternative to the traditional, rigid plastic tubing still used in many other institutions. When patients are sent home with the drain(s) still in place, family members are educated to maintain them during the days or weeks after surgery. Doctors and nurses also maintain close contact with the patient after discharge, while the drain is still in place.
In June 2012, Dr. Leonard Bailey performed a Fontan operation on two-year-old Vincente "Vinny" Rubino, and inserted a Blake drain. Vinny went home just two days after his surgery. His parents, Bethany and Sean, were taught how to care for their son and his drain. The drain was removed about two-and-a-half weeks after Vinny was discharged.
Historically, and even today in the vast majority of hospitals, Vinny would have remained hospitalized the entire time, until the drain could be safely removed. However, Vinny was able to spend those two-and-a-half weeks in the comfort of his own home with his family and friends.
"Caring for Vinny and the drain was relatively easy," Mrs. Rubino said. "And it didn't seem to bother him at all. Dr. Gordon and the entire cardio team at Loma Linda were amazing. Everyone was very personable, and they helped my family get through a challenging time."
Vinny's mom says he is full of energy just like any other toddler. He still visits Loma Linda International Heart Institute about every three months for check-ups with Dr. Bailey and Dr. Ranae Larsen, who is also a cardiologist at LLUMC.
PHOTO CAPTION: Dr. Brent Gordon checks the heartbeat of Vincente "Vinny" Rubino during a routine check-up at LLUCH prior to his open heart surgery, which took place in June 2012.
###