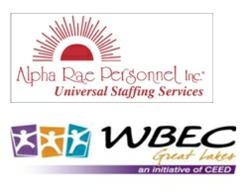 ...There is a need for women business leaders to give a hand up to other women...
Fort Wayne, Indiana (PRWEB) October 18, 2012
Dr. Rae Pearson, President/CEO of Alpha Rae Personnel, Inc has received the Volunteer of the Year award from the Women's Business Enterprise Council - Great Lakes.
WBEC - Great Lakes denotes its Volunteer of the Year as an individual who is involved in WBEC-Great Lakes Programs/Projects/Committees, who volunteers in committees, and who encourages others to participate in WBEC-Great Lakes.
As a passionate leader in the support of women in business, Dr. Pearson was thrilled with the award, stating, "Throughout my career I have made it a priority to mentor women in business. There is a need for women business leaders to give a hand up to other women, we need to assist them in discovering their missions and help guide them along their life's path. It is only with this committment that our collective futures will be the brightest they can be."
About Alpha Rae Personnel, Inc:
Alpha Rae Personnel, Inc. is a full service, Universal Staffing and Executive Search firm with a proven track record of over 25 years of experience placing candidates for a wide range of positions in a variety of manufacturing and service sector companies from defense contractors to call center operations locally, regionally, and throughout the United States.
About WBENC:
The Women's Business Enterprise National Council (WBENC) is the leading advocate for, and authority on, Women's Business Enterprises (WBEs) as suppliers and vendors to the nation's corporations. Founded in 1997, WBENC is also the nation's leading third-party certifier of businesses owned and operated by women, with nearly 11,000 WBENC-Certified WBEs. WBENC certification is accepted by more than 1,000 corporations representing America's most prestigious brands, in addition to many states, cities and other entities.