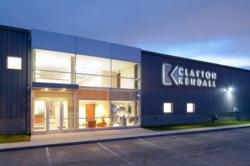 Pittsburgh, PA (PRWEB) October 17, 2012
Clayton Kendall, the largest branded merchandise distributor in Pennsylvania, was recognized by the Pittsburgh Business Times as one of the 2012 Best Places to Work in Western Pennsylvania. This honor was awarded to companies based on the results of an online employee satisfaction survey that was completed in June. Clayton Kendall joined other top Pittsburgh Companies at an awards luncheon held on Wednesday, October 17, 2012 at the Westin Convention Center Hotel.
For 13 years, Clayton Kendall has been providing promotional products, decorated apparel, and custom printed products to companies across the country. The Clayton Kendall Programs division provides companies of all sizes with customized branded merchandise programs to help them better manage their promotional products, decorated apparel, and printed materials. rushIMPRINT is the online retail division that is designed for those customers who need branded promotional items in a rush. Many of the products can be customized and shipped in as little as one day.
"Clayton Kendall is truly a special place to work," said Chris Grill, Clayton Kendall Chief Technology Officer. "The business is family owned and operated by Regina, Daniel, and Michael Broudy, and they have created a culture that combines hard work, dedication, innovation, and fun."
All members of the Clayton Kendall team work at the headquarters in Monroeville, Pennsylvania and have extensive experience working with companies of all sizes, from small start-ups to large multi-location businesses.
"While everything we do is driven by technology and our 360 Degree Branded Merchandise Process, it's our employees that make the biggest impact on our business," added Regina Broudy, Clayton Kendall, Founder, President and Chairwoman of the Board. "We have an extremely strong team that's dedicated and passionate about exceeding customer expectations."
Clayton Kendall was also named one of the 2012 Top 100 Fastest Growing Companies by the Pittsburgh Business Times.
About Clayton Kendall
Clayton Kendall provides businesses with customized branded merchandise programs to help them better manage their promotional products, decorated apparel and printed materials. The company specializes in tailoring each program to meet the unique needs of its customers throughout the United States and in Canada. Clayton Kendall's service offering includes graphic design, product sourcing, customized online ordering systems, printing services, distribution and fulfillment services, and program management.
Clayton Kendall is a privately held company headquartered in Monroeville, Pennsylvania, and is the largest promotional products and decorated apparel distributor in Pennsylvania. The company is certified by the nationally recognized non-profit National Women Business Owners Corporation (NWBOC) and Women's Business Enterprise National Council (WBENC) as a Women Business Enterprise (WBE). For more information, visit http://www.claytonkendall.com.