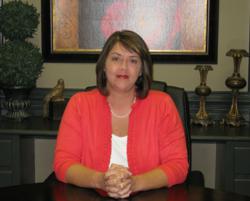 April has been with our firm for 14 years and has risen through the ranks. She has served the firm and our clients in numerous capacities over the years; April's dedication and hard work are invaluable to our team.
(PRWEB) October 24, 2012
Local law firm, HensonFuerst Attorneys, is proud to promote April Vaughan McKee to the position of chief operating officer. McKee, a native of Roanoke Rapids, N.C., has worked with HensonFuerst since 1998, holding positions as a medical malpractice legal assistant, medical malpractice paralegal, personal injury paralegal, senior litigation paralegal, office manager, operations manager, director of operations, and now chief operations officer.
Before working with HensonFuerst, McKee worked as an ophthalmic technician and surgical coordinator. McKee's background in the medical field makes her a valued asset to the law firm. "I am pleased to accept the position of chief operating officer and am grateful for the trust the partners of HensonFuerst have shown in me. They've always pushed me to rise to a new level. HensonFuerst is a great company to work for, and I'm committed to making a significant contribution to our firm and clients."
About HensonFuerst
HensonFuerst Attorneys, is a North Carolina-based law firm with offices in Raleigh, Rocky Mount, Creedmoor, and Boone, concentrating in traumatic brain injury, nursing home abuse, medical malpractice, and mass tort cases. For nearly 40 years, the attorneys at HensonFuerst have represented those injured by the negligence of others. With successful multimillion-dollar verdicts and settlements throughout the state of North Carolina, the team of 13 lawyers and 40 staff members at HensonFuerst offer considerable experience and resources for their clients. For more information, visit http://www.HensonFuerst.com.
###