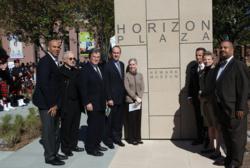 Newark, NJ (PRWEB) October 18, 2012
A large masonry monument, focal point of the Newark Museum's new Horizon Plaza was unveiled on October 16 by Museum Director & CEO Mary Sue Sweeney Price and Robert A. Marino, President & CEO, Horizon Blue Cross Blue Shield, at dedication ceremonies attended by state and city officials, community and business leaders, and representatives of the Museum's and Horizon's official families.
Horizon Plaza, the first new downtown Newark green space in decades, is located adjacent to the Museum on the southeast corner of Central avenue and Washington street. Funded in part by a generous $1 million grant from The Horizon Foundation for New Jersey and Horizon Blue Cross Blue Shield of New Jersey, the 11,000-square-foot garden plaza, designed by Michael Graves & Associates of Princeton, is a welcoming new vista for visitors to the Museum campus and a unique urban landscape for Newark's James Street Commons Historic District and the Washington Park neighborhood.
Additional funding for this public-private partnership was provided by the City of Newark and U.S. Department of Housing and Urban Development (HUD) Community Development Block Grants (CDBG), and the Victoria Foundation.
"The Horizon Plaza offers museum visitors and passersby a place of enjoyment and respite," said Marino. "We are proud to support this poignant new addition to the Newark Museum and the Newark community," he said.
Located along the intersection of Washington Street and Central Avenue at the southeast corner of the Museum campus, Horizon Plaza serves several core functions for both the Museum and its surrounding community.
"The creation of Horizon Plaza is a dynamic and highly visible step in the Museum's Signature Campaign for Sustainability and Growth," said Mrs. Price. "The goal of the $86.5 million Campaign," she said, "is to provide much needed endowment and current operating support as well as essential infrastructure for the Museum's renowned art and natural science collections."
According to Signature Campaign Chair Joseph J. Melone, "More than $30 million has been raised to date. Museum Chair Arlene Lieberman, President Andrew Richards and all of my fellow Trustees join me in thanking the Campaign's donors for their belief in the Newark Museum mission of cultural excellence and educational access. We are particularly grateful to the Horizon Foundation for making this beautiful plaza a reality."
Speaking of the Plaza design, Mrs. Price added: "We have created a great new community gathering space, a beautiful urban vista and an ecologically sustainable park all in one. Once again, architect Michael Graves has excelled in understanding the importance of place in the urban experience."
"The vibrant new garden at the corner of Washington and Central opens Newark Museum's campus to the City visually," said Michael Graves, "and creates a welcoming approach to the Museum's South Wing entrance that will be enjoyed by visitors and neighbors alike. As a memory garden, it links the City's past with the Museum's optimism for educating future generations."
History and Design
As a part of the James Street Historic District, Horizon Plaza also commemorates the prior history of its site. It was most recently occupied by a corner commercial building at 51 Central Avenue and the c.1860 Polhemus House on the adjoining lot. To reference these buildings, Michael Graves and Associates has employed a hardscape and softscape landscape design that incorporates visual and tactile "memory clues" throughout the Plaza's gathering spaces.
According to Project Architect James Wisniewski, "the centerpiece of the design focuses on the use of native, sustainable plantings to evoke the footprint of the parlor floor of the Polhemus House and the locations of other prior residential and commercial buildings."
These features are represented by open spaces planted with grasses, shrubs, ground covers and lawns native to Essex County, such as "Karley Rose" Fountain Grass, Blue Chip Buddleia, and the daylilies known as "Pardon Me" and "Big Time Happy." According to Wisniewski, "Plantings will grow and change with each season, loosely referencing the architectural evolution of this built-up urban site as it changed over time."
Masonry pavers with bench seating will provide elegant internal spaces along which people may stroll and gather. Steel and marble-topped structures reference the marble hearths of long ago, accompanied by interpretive signage panels further conveying the history of the site.
A paving line along the Washington Street border references both the historic cast iron fencing along 19th-century residential front yards as well as the diagonal (chamfered) corner the 51 Central avenue building, speaking to the district's 20th-century commercial evolution.
The new plaza will be articulated with an iron fence and lined with perimeter trees, including Sango-Kaku (coral bark) Japanese Maple and flowering New Bradford Pear trees. A new handicapped parking area will be located to the west of the site, set behind a "green wall" of Arborvitae evergreen trees.
Implementation Team
Horizon Plaza is the result of a public-private partnership with lead funding provided by the Horizon Foundation. Additional funding was provided by the City of Newark; U.S. Department of Housing and Urban Development Community Development Block Grants (CDBG), and the Victoria Foundation.
Architectural and Landscape Design: Michael Graves & Associates, Princeton, NJ, in collaboration with the Newark Museum and Building Conservation Associates Inc. Design Team Members: Barreto Dowd, landscape architects; Pennoni Associates Inc., civil engineers; Luongo Associates P.A., electrical & plumbing engineers; Robert Silman Associates, structural engineers; Illumination Arts LLC, lighting design; and Hunter Research Inc., archaeologist. Construction: John O'Hara Company, Inc., East Orange, NJ
-- END --
ABOUT THE NEWARK MUSEUM
The Newark Museum is located at 49 Washington Street in the Downtown/Arts District of Newark, New Jersey, just 3 blocks from NJPAC and 10 miles west of New York City. The Museum is open all year round: Wednesdays through Sundays, from Noon – 5:00 p.m. Suggested Museum admission: Adults, $10.00; Children, Seniors and Students with valid I.D., $6.00. Newark Residents and Members are admitted free. The Museum Café is open for lunches Wednesday through Sunday. Convenient parking is available for a fee. The Newark Museum campus, including its collections, facilities, and other resources, is accessible to accommodate the broadest audience possible, including individuals utilizing wheelchairs, with physical impairments, other disabilities, or special needs. For general information, call 973-596-6550 or visit our web site, http://www.NewarkMuseum.org.
Newark Museum, a not-for-profit museum of art, science and education, receives operating support from the City of Newark, the State of New Jersey, the New Jersey Council on the Arts/Department of State — a partner agency of the National Endowment for the Arts, the New Jersey Cultural Trust, the Prudential Foundation, the Geraldine R. Dodge Foundation, the Victoria Foundation, the Wallace Foundation and other corporations, foundations and individuals. Funds for acquisitions and activities other than operations are provided by members and other contributors.
The Newark Museum is just a few steps from the new NJTransit Light Rail Washington Park Station. Direct connection with the Light Rail at the Broad Street Station and through Penn Station makes the Museum a convenient ride from all points in the region.
ABOUT THE HORIZON FOUNDATION
The Horizon Foundation for New Jersey promotes health, well-being, and quality of life across our state by supporting charitable organizations. For more information about the Foundation visit http://www.HorizonBlue.com/Foundation.
ABOUT MICHAEL GRAVES & ASSOCIATES
Michael Graves & Associates has been in the forefront of architecture and design since AIA Gold Medalist Michael Graves founded his practice in 1964. Today, the practice comprises two firms run by eight principals. Michael Graves & Associates (MGA) provides planning, architecture and interior design services, and Michael Graves Design Group (MGDG) specializes in product design, graphics and branding. MGA has designed many master plans and the architecture and interiors of over 350 buildings worldwide, including hotels and resorts, restaurants, retail stores, civic and cultural projects, office buildings, healthcare, residences and a wide variety of academic facilities. MGDG has designed and brought to market over 2,000 products for clients such as Target, Alessi, Stryker and Disney. Graves and the firms have received over 200 awards for design excellence. With a unique, highly integrated multidisciplinary practice, the Michael Graves Companies offer strategic advantages to clients worldwide. For more information, visit http://www.michaelgraves.com.