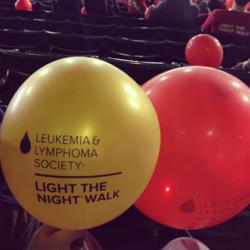 "I enjoy doing these walks because it makes me feel good to be involved in something that is benefiting others." Erica Anderson commented
Indianapolis, Indiana (PRWEB) October 18, 2012
This past Saturday on October 13th, SmarTravel teamed up with Leukemia Lymphoma Society for their annual Light the Night Walk that took place at Victory Field in downtown Indianapolis.
"I enjoy doing these walks because it makes me feel good to be involved in something that is benefiting others." Erica Anderson commented. Many SmarTravel employees came together in collecting donations not only while at work, but also outside of work for a few months before the walk. With their donations, SmarTravel collected over $650.00 for the Light the Night Walk Indianapolis.
In September, Elizabeth Hamilton from the Leukemia Lymphoma Society of Indianapolis came into our SmarTravel office and spoke to our staff about the importance of the society and where all of their funds go to in regards to research…etc. SmarTravel was also able to host a balloon donation drive in our office for the month of September and October and were able to receive many outside donations from not only clients, but tenants of our office building as well.
As always, SmarTravel loves dedicating their time and money to many organizations in the Indianapolis area to better the community. Don't forget to check out next month to see what organization we help out next!
For more information visit http://www.mysmartravel.com
About SmarTravel
SmarTravel is a travel company offering great vacations at wholesale prices. Founded by Ohio businessman and community leader David Wise in 2001, the goal of the company is to provide families with affordable quality vacations. SmarTravel offers its clients the opportunity to vacation in many popular resort areas, where the company and its partners own, lease, or otherwise have access to resort accommodations. SmarTravel utilizes a simple and proven concept: to buy vacations in bulk and pass the savings on to the traveler.
About Leukemia and Lymphoma Society
The mission of The Leukemia & Lymphoma Society (LLS) is: Cure leukemia, lymphoma, Hodgkin's disease and myeloma, and improve the quality of life of patients and their families.
LLS is the world's largest voluntary health agency dedicated to blood cancer. LLS funds lifesaving blood cancer research around the world and provides free information and support services.
Our Key Priorities will ensure that: The Leukemia & Lymphoma Society helps blood cancer patients live better, longer lives. Visit http://www.lls.org for more information.