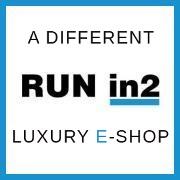 Bergamo, Italy (PRWEB) October 18, 2012
Runin2.com distinguishes itself thanks to the top brands in the catalog and to the peculiar selection of new emerging brands, brands among the most interesting in today's panorama. This is what makes our catalog complete and always a step forward.
The impact and the structure of the graphic layout were created thanks to the collaboration among the best professionals in the web and fashion field; runin2, it's a sophisticated shopping experience, a visit at a contemporary art show where only great and unique masterpieces make their way.
Special focus is given to editorial contents, created and gathered all together to enhance brands and their pieces through images, pictures, trends, video and the latest news from the fashion world.
To celebrate runin2's first 500 days online, a new series of videos made by world renowned fashionists will present new season's collections and the new must-have's as selected by our stylists. The video collection, starting from "A day with Pelayo Diaz": http://tinyurl.com/runin2-pelayodiaz, to be logged into Facebook to see the video; reserves several outstanding surprises and focuses on prominent characters from the avant-garde fashion world.
Our photographers will constantly catch stars and celebrities, along with the emerging personalities during the most fashionable events. They will catch any fashion styles and details passing by on the streets of the outstanding fashion cities.
The outcome is an e-commerce of great impact, where graphic style, site structure and editorial links are the perfect shop window for the identity and characteristics of each item.
Runin2.com is a different Luxury E-Shop, either for the products' choice, either for price. Trends of this coming winter season are of different kinds, some of which more explicit than other.
We are glad to present high-profile accessories, so it becomes impossible not to speak about manufacturing of superlative quality, care for details usual of one-of-a-kinds, special finishings as the metal ones on leather goods and decorative purposes: gold, silver and bronze. Shiny metal effect through the application of chrome or golden glitter and studs is visible on many pieces,as the Valentino and Gienchi collections.
Another main characteristic is colour. Just forget about the wintery natural shades, we are talking about the Colour (capital C): Red, Yellow, Violet, Cobalt Blue: all of them making a pop-artist's palette jealous! (See Yves Saint Laurent, Stella McCartney, Proenza Schouler, Mulberry).
For the evening (and perhaps for the day), pochette are the absolute winners: small versions of famous it-bags or properly named jewel bags. Have a look at Lanvin and Valentino's collections.
Animalier print is a style mark for some brands, like Dolce&Gabbana; but it has been re-intepreted by other brands: mostly printed on classic bases (pony hair) or in unusual versions on patent and polished leather, to create an icy effect. More unusual effects to look out for are opaque finishes to create tarry textures or dirt ones, like that of a painter's canvas. Check out the followings: Maison Martin Margiela, Yves Saint Laurent, alexander Wang)
About Runin2:
Runin2.com was born from the partnership between Base Blu Varese and Folli Follie, two realities that well represents the Best Italian Stores and that jointly created this online store to present a new and unique company
Photos & Videos Exclusive Milan and Paris' fashion weeks: http://www.facebook.com/Runin2.eshop